Alberto Barbera discusses the stellar line-up for the 74th edition of the festival.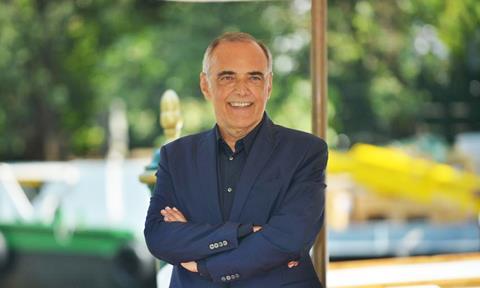 As the world's oldest film festival gears up for its 74th edition, Venice Film Festival director Alberto Barbera is excited about kicking off this year's awards season in earnest.
In the last four years the festival has launched major Oscar runs for four US movies: Gravity, Birdman, Spotlight and La La Land.
This year, Venice's world premieres include Alexander Payne's social satire Downsizing, Guillermo del Toro's other-worldly fairy tale The Shape of Water, George Clooney's crime-caper Suburbicon, Darren Aronofsky's drama-horror mother! and Martin McDonagh's Three Billboards Outside Ebbing, Missouri.
In 2016, the festival chief knew he had a diamond in the shape of Damien Chazelle's musical and while he may not have a slam dunk as obvious as that, he is sanguine about this crop's awards potential.
"Downsizing has good chances, of course," said the festival chief.
Del Toro's The Shape Of Water (pictured, below), starring Sally Hawkins, Octavia Spencer and Michael Shannon, also comes in for high praise.
"It's the best film Guillermo Del Toro has made in the last ten years [since Pan's Labyrinth]," Barbera says.
"It may not look like one [an obvious Oscar contender], but it's so good that it can make it. Fox Searchlight really believes in its potential".
Growing challenge
However, the dance with studios to secure top US films was more challenging than ever.
Warner Bros' Blade Runner 2049, due for release on October 4th, was one autumn festival potential not announced for the Lido. Barbera says the film's omission is partly a result of a "growing problem" for festival directors: studio fears over spoilers.
"More than ever studios are afraid about that moment when their movies encounter audiences and press for the first time as this may negatively impact their box office".
According to Barbera, the growing heft of international financiers on studio movies is complicating the opportunity for festival debuts.
"Big movies aren't made with studio money alone. They are made with investment funds and the help of Chinese companies. Opening weekend box office predictions are made with algorithms similar to those used in the finance world. If something goes wrong a studio may lose that economic support.
In that vein, securing Paramount's Downsizing took some work.
"We know that right now Paramount has a close relationship with Chinese investors," he expands. "You can understand that those investors want to have their say in how movies are made, produced, and where they premiere. This changes everything. Pressure is higher than it has ever been," he said.
Italian movies
Meanwhile, Barbera is optimistic about the health of Italian cinema. Five movies with local producers will screen in competition.
"In recent years Italian cinema production has grown from 100 films per year to nearly 250. That has led to a decrease in quality. But this year, in contrast, we have seen a lot of good Italian movies.
"We've noticed a generational shift. Auteurs and directors are trying to break with tradition. We saw very few comedies or social commentary features, for example.
"What we've seen are efforts to make something different and international, be it Paolo Virzì or Susanna Nicchiarelli making foreign-language films, or other filmmakers shooting Italian-language movies with international potential."
New horizons
In Barbera's ninth year at the helm (across two stints), the festival continues to embrace change. This year it will host its first VR competition strand, whose jury is headed by John Landis.
After screening The Young Pope last year, Venice is also showcasing TV and the digital players. Netflix will show the first two episodes of its Italian crime drama Suburra, as well as Errol Morris' anticipated Wormwood.
"Cinema is radically changing," says Barbera.
"There's more cinema in TV series than in films, and new streaming players such as Netflix and Amazon are changing all the rules. We can't pretend cinema is what we have known in the last 100 years. That would be a conservative and losing attitude, like trying to stop a tsunami with your bare hands."
Diversity
One area the festival could improve, however, is in the diversity of its lineup.
While Annette Bening is the festival's first woman jury head in 11 years, only one of the 21 films in competition is by a female director (Vivian Qu).
"We saw nearly 2,000 movies for the selection and the percentage of those which were women-directed was very low", explains the festival head.
"I think that the best way to watch a movie is the same as tasting a wine: covering the label and not knowing who made it."