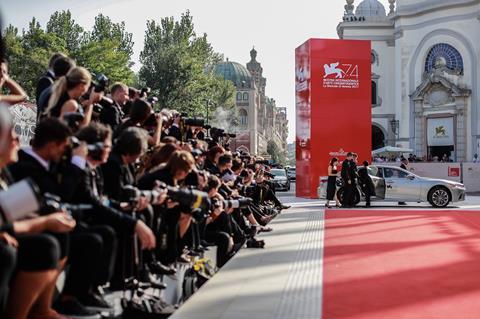 The organisers of the Venice Film Festival, set to run in four and a half months time from September 2-12, are proceeding with business as usual as attention turns from Cannes to the next big event in the industry calendar.
However a great deal of uncertainty remains as to whether the festival can take place in any form at all. As of April 17, Italy was the European country worst-hit by the coronavirus crisis (there were more than 22,000 deaths and some 169,000 confirmed cases as of April 17). But it was also the first which suggests it may soon start to recover.
Lockdown in Italy has been prolonged until May 3 but few believe cinemas and other social pursuits such as concerts will reopen at that time or even before the summer. Drive-in screenings have been suggested by some including Francesco Rutelli, president of the national association of producers and distributors (ANICA), as an option for the country at large to return to cinema-going but that's not a choice Venice has.
The festival's programming team is evaluating those movies that managed to be completed before the various global lockdowns. Team meetings are taking place via video conferences in line with many other workplaces around the world.
The Venice Production Bridge has opened its usual call for projects for Final Cut in Venice, and Venice VR has done the same, announcing Vajont as the Biennale College VR project selected for this edition.
Festival director Alberto Barbera has already ruled out a virtual Venice and although his relationship with Cannes delegate general Thierry Fremaux is reportedly a good one – the two have long shared advice and information and are in touch these weeks more than ever – the possibility of a joint festival between the two in the autumn is understood to be very unlikely.
A final decision on Venice is expected to be taken by the new board, headed by freshly-appointed president Roberto Cicutto, between the end of May and the beginning of June. But in the week Cannes announced it cannot hold a physical festival on the Croisette in July, doubts about the likelihood of Venice taking place in early September intensified. Permitted gatherings in closed spaces such as cinemas in just four and a half months' time seem further away than ever.
But some are holding out the hope that Venice, due to its peculiar geographical conditions, could be an exception. The Lido is, after all, an island.
The road ahead
Italy is rapidly progressing the introduction of smartphone apps that can monitor the contagion following the South Korean model. If the infection rate slows as is predicted by June, a closely monitored edition of Venice doesn't seem an (entirely) wild hypothesis.
In theory, it could be possible to check attendees and admit only the non-contagious ones. These precautions, together with an obligatory adoption of gloves and masks or even the necessary distancing during the screenings, could make a film festival possible.
But just how much the global press will attend such an event, let alone which talent would choose to walk, masked, down a red carpet, are just two of the many, many questions this scenario provokes.
And if attracting Hollywood talent appears unlikely, the option of a mostly European edition isn't so far finding too much favour with the Italian industry. A smaller edition of Venice, with less press and no A-list talent, is considered by most to be counterproductive – a half-baked response to the crisis that would not serve the needs of anyone.