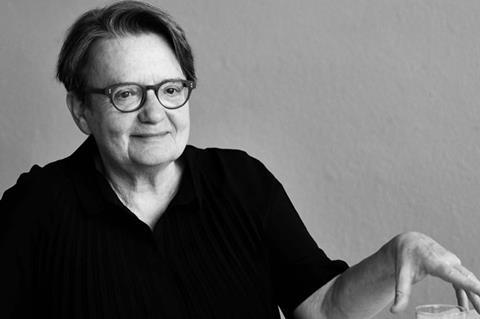 This year's Venice Gap-Financing Market, returning for its sixth edition in 2019, has named the 51 projects that will participate across its four strands.
There are 28 features, fiction and documentaries, heading to the Lido this year. Among them is Agnieszka Holland's upcoming feature Charlatan (Sarlatan), which is being produced by Czech outfit Marlene Film in co-production with Film & Music Entertainment (F&ME)'s Irish outpost and Slovakia's Furia Film.
The project is based on the life of Jan Mikolášek, a Czech healer who lived in totalitarian 1950s Czechoslovakia. Films Boutique is handling sales. Holland's recent work includes Mr Jones, which premiered at this year's Berlinale, and she is also working on epic eight-part TV series Napoleon, with Stuart Pollock's Saltire Entertainment and Jeff Field's Field Entertainment.
In the Venice market's VR strand, Mike Brett and Steve Jamison of UK production outfit Archer's Mark are teaming with director Pierre Zandrowicz on a new virtual reality project titled 38 Minutes. Archer's Mark is the company behind the critically acclaimed feature documentary and VR project Notes On Blindness, about a writer who chronicles losing his sight. The company is also producing a feature documentary about Charlie Chaplin, Chasing Chaplin, which is in post-production.
In this year's Venice market will also be 11 projects from the festival's Biennale College initiative, three of which are films and eight are VR works.
Full list of projects below.
Feature and documentary projects:
Air (Ru) dir. Alexey German Jr.
Alam (Fr, Lb, Be) dir. Firas Khoury
A La Sombra De Los Àrboles (Ch) dir. Matías Rojas Valencia
Aleph (US, Cr) dir. Iva Radivojevic
Anadolu Leopari (Tu, Ge) dir. Emre Kayis
Death Of Nintendo (US, Ph) dir. Raya Martin
El Prófugo (Ar) dir. Natalia Meta
Guerra E Pace (It, Sw, Fr) dir. Massimo D'Anolfi and Martina Parenti
Het Mirakel Van Almeria (Be, Nl) dir. Moon Blaisse
Iguana Tokyo (Tu, Ge, Ja) dir. Kaan Müjdeci
Kommunioun (Lu, Be, Fr) dir. Jacques Molitor
La Nuit Des Rois (Fr, Ca, IC) dir. Philippe Lacôte
La Sirène (Fr, Lu, Ge, Be) dir. Sepideh Farsi
Les Cahiers (Lb, Fr, Ca) dir. Joana Hadjithomas and Khalil Joreige
MICA (Mo, Fr) dir. Ismaël Ferroukhi
My Sunny Maad (CR, Fr, Sk) dir. Michaela Pavlátová
Place De l'Europe (Ge, Fr) dir. Philip Scheffner
Quo Vadis Aida (working title) (Ba, At, Ro, Nl, Po, Ge, Fr) dir. Jasmila Zbanic
Re Granchio (It, Ar, Cl) dir. Alessio Rigo de Righi, Matteo Zoppis
Saint-Narcisse (Ca) dir. Bruce La Bruce
Šarlatan (CR) dir. Agnieszka Holland
Sharaf (Ge, Tn, Eg, Fr) dir. Samir Nasr
Spaccapietre (It, Fr) dir. Gianluca and Massimiliano De Serio
Sposob lyubvi (Lovehack) (Ru) dir. Tamara Dondurey
The Quest For Tonewood (No, It, Ba) dir. Hans Lukas Hansen, Norsk Fjernsyen
The Hunter's Son (Nl, Ic, Be, Po) dir. Ricky Rijneke
The Last Ride Of The Wolves (Nl, It) dir. Alberto de Michele
Woken (Ir, Fr, Lu) dir. Alan Friel
Virtual Reality projects:
38 Minutes (Fr, UK) dir. Mike Brett, Steve Jamison and Pierre Zandrowicz
African Space Makers (Ke, Ge) dir. Vincenzo Cavallo Faras and Isa Mohamed
Agence (Ca) dir. Pietro Gagliano
Captured (Fi, In, Ca) dir. Hanna Haaslahti
Here (UK) dir. Lysander Ashton
Hush (Dk) dir. Vibeke Bryld
Hypha (Ch) dir. Natalia Cabrera
Kusunda (Ge, US, Ne) dir. Gayatri Parameswaran and Felix Gaedtke
The Greatest Moon Hoax (Ta) dir. John Hsu
The Great Orator (Nl) dir. Daniel Ernst
Under Attack (UK) dir. Kate Parkinson and Aela Callan
Welcome To The Savoy (Fr, Ca, US) dir. Landia Egal
Biennale College Cinema - Virtual Reality Projects
Doubts Of A Genius (It) dir. Matteo Lonardi
Frontera (Ve) dir. Emiliana Ammirata
Goliath (UK) dir. Barry Gene Murphy
How Is The Water (CR, Ge) dir. Ninja Müller
My Room (Ta, Ge) dir. Uta Arning
Queerskins Ark (US) dir. Illya Szilak, Cyril Tsiboulski
This Is For You (Fr, Ar) dir. Mercedes Arturo
Ways To School (Fr, Is) dir. Zohar Kfir
Biennale College Cinema Projects
Marwell (UK) dir. Benjamin Bee
The Properties Of Metals (It) dir. Antonio Bigini
Those Who Whistle After Dark (SK, Tur) dir. Pinar Yorgancioglu