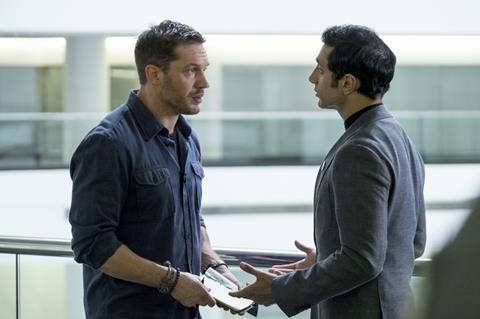 Venom should prove too potent for A Star Is Born at the global box office this weekend as the comic book adaptation swings into 59 markets through Sony Pictures Releasing International.
The UK, Australia, Germany, Russia, Mexico, South Korea, Italy, Brazil and Spain are the key markets where Venom opens day-and-date with North America.
Comps are tricky here, given the tentpole's larger-than-life tone (even by comic book standards) and risky combination of horror, action, and comedy. 2017 release Spider-Man: Homecoming debuted on $139.5m internationally in July 2017 and went on to amass $545.9m by the end of its run. However that was an established franchise and ostensibly more accessible to a broader audience.
China remains undated on the comic book adaptation starring Tom Hardy from Columbia Pictures, Marvel Entertainment and China's Tencent Pictures. Ruben Fleischer directs the Spider-Man comic-book spin-off. Michelle Williams and Riz Ahmed also star.
Also from the Sony stable, Hotel Transylvania 3: Summer Vacation has grossed $345.9m, while the thriller Searching has reached $38m, and Studio 8's family release Alpha stands at $43m.
A Star Is Born takes a bow in 31 markets day-and-date with North America this weekend through Warner Bros Pictures International. While Bradley Cooper's new version of the storied musical boasts Lady Gaga and Cooper in the leads and plenty of festival plaudits since it debuted in Venice and went on to play Toronto and Zurich, the drama doesn't open in enough major markets this weekend to trouble Venom.
However, strong results are expected everywhere, led by the UK, France, Germany, Russia, and Spain.
New Line's global horror hit The Nun has reached $227m. The early September corridor has worked well for the studio (It opened around that time last year) and earlier today Warner Bros announced the next film from the Conjuring universe will debut on September 11, 2020.
Meanwhile Crazy Rich Asians stands at $55.1m, and the animation Smallfoot on an early $21.3m marches into Italy.
Universal Pictures International gives Johnny English Strikes Again a big push this weekend with Friday's debut in Rowan Atkinson's home turf the UK. The two prior iterations of the action comedy have done well there and the territory finished as the lead market in both cases, earning $31.2m for Johnny English in 2003 (adjusted for inflation to $42.5m), and $33.1m ($36.8m) for Johnny English Reborn in 2011. Johnny English Strikes Again stands at $51.9m and also debuts in Argentina and Portugal.
Fifty Shades Freed opens in Japan and stands at $270.7m from the international market thus far. Leigh Whannell's sci-fi horror Upgrade opens in France, while BlacKkKlansman on $33.6m debuts in Russia, and Ola De Crimenes opens in Spain.
Amblin Partners' fantasy release The House With A Clock In Its Walls has taken $11.5m from Universal territories, while the musical Mamma Mia! Here We Go Again stands at $270.5m, and comedy Night School $8.3m from early days.
Walt Disney Studios Motion Pictures International's Incredibles 2 has reached $607.1m, and Christopher Robin on $77.3m debuts in South Korea and Spain.
Fox International reports that The Predator has grossed $70.2m and ventures into Belgium. El Potro opens in Argentina. The Darkest Minds has generated $28.5m.
Mission: Impossible – Fallout stands at $570.7m through Paramount Pictures International.