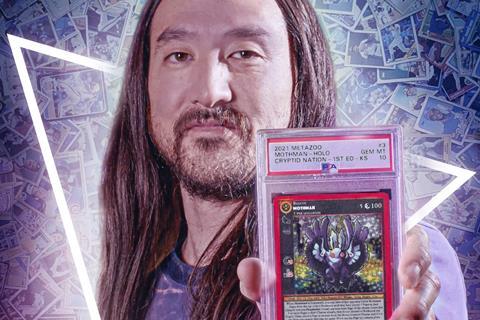 Vertical Entertainment has acquired North American rights from Archstone Entertainment to the card industry documentary Behind The Card.
Vertical has set a November 18 day-and-date release and Archstone continues international sales at the AFM on the film highlighting the ongoing rise of a sports card industry that can turn people into overnight millionaires.
The documentary explores the industry's path from card creation to the end buyer since it started more than a century ago, and covers market manipulation, card theft, online scams, technological innovations, and the personal stories of fans.
Featured interviews including American music producer and DJ Steve Aoki, actors, American Football stars Josh Jacobs and Nick Gonzales, and industry experts like Mark Warsop from Panini America.
Christopher Fitzjarrald wrote and directed and Jeremiah Rounds served as producer. The executive producer roster includes Paula Fitzjarrald, Scott Martin, Jack Sheehan, and Michael Thomas Slifkin.
"The sports card market has grown beyond the kid ripping a pack of cards with his dad for the fun of it," said Fitzjarrald of Views of Business Inc. "There is an intricate web throughout the card industry that you must discover in order to survive as a collector in the hobby nowadays. Behind The Card captures this scattered industry and puts it in a sequential order so that ordinary individuals can start to collect cards like the top industry experts do."
Vertical's SVP of acquisitions Tony Piantedosi negotiated the deal with Jack Sheehan of Archstone on behalf of the filmmakers and added, "This is a fascinating and little-known industry that generates tens of millions of dollars in revenue for those lucky enough to be in the game.
"Many of us grew up trading cards with friends and Christopher Fitzjarrald has done a great job peeling back the curtain to offer a glimpse at what has evolved into a business of high stakes, winner takes all gambles."