EXCLUSIVE: Luke Wilson, Chad Michael Murray, Francesca Eastwood, and Teri Polo star in the recent Sundance world premiere that Andre Relis is bringing to the EFM.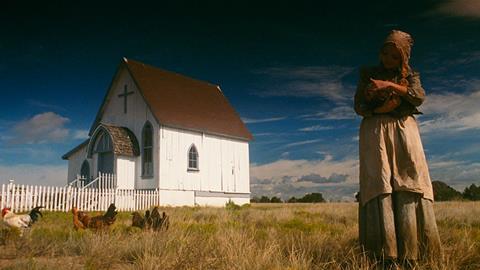 J T Mollner wrote and directed the Midnight selection that debut in Park City last month and follows a gang of outlaws that raid a frontier family home to hide out for the night.
What the invaders do not know is they have picked on the wrong household as a game of cat-and-mouse, role reversal and bloody revenge ensues.
Luke Daniels produces with Rosanne Korenberg, Chris Ivan Cevic, and Alex Cutler.
VMI Worldwide president Relis served as executive producer and has scheduled a February 13 market screening in Berlin at CinemaxX Studio 17.
Momentum Pictures will release the film theatrically later this year after securing rights in North America, Germany, and Latin America at the AFM in November.
"We've been fans of Outlaws And Angels since the project's earliest stages of development and are thrilled and honoured to be a part of JT's vision for this bloody revenge tale at last reaching fruition," said Relis.

"The reception out of Sundance has been fantastic and we look forward to the film's international premiere in Berlin."