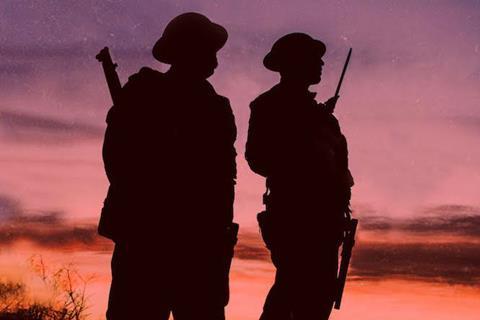 Evolutionary Films has taken UK distribution and international sales rights to First World War drama Eleven.
Roy Rivett from fledgling UK production outfit Shaking The Tree Productions produced the project. Rock Salt wrote the screenplay and directed, Sean Cronin was co-director.
Sean Cronin, Jamie Lee-Hill and Julian Gamm star in the film, which depicts the final hours of the war, when peace had already been agreed but power-hungry military commanders were still needlessly sending soldiers to their deaths.
The film is in post-production and a release is being lined up for November 2018 to coincide with the 100-year anniversary of the end of the conflict.
"Eleven is a tribute to those brave men and women who endured so much and suffered so terribly during, not only the last days and hours of 1918, but throughout the enormous tragedy of The Great War and in it's aftermath," said co-directors Rock Salt and Sean Cronin.
John Adams, CEO of Evolutionary Films added: "This is a very important story that we're proud to be presenting to audiences in the UK and around the world. As a former Officer in the British Army myself, I hope that this film goes some way to honouring the memory of the brave men and women who've made the ultimate sacrifice for their country."