Wes Anderson's The French Dispatch and Kirill Serebrennikov's Petrov's Flu both received middling average scores on Screen's 2021 Cannes jury grid, with more than half of the competition titles now seen by critics.
Six of our ten critics awarded Anderson's latest a score of two (average), with it receiving a mean score of 2.3 overall. Only The Telegraph (Robbie Collin and Tim Robey) gave it a four (good), with Liberation's critics Julien Gester and Didier Péron scoring it one (poor).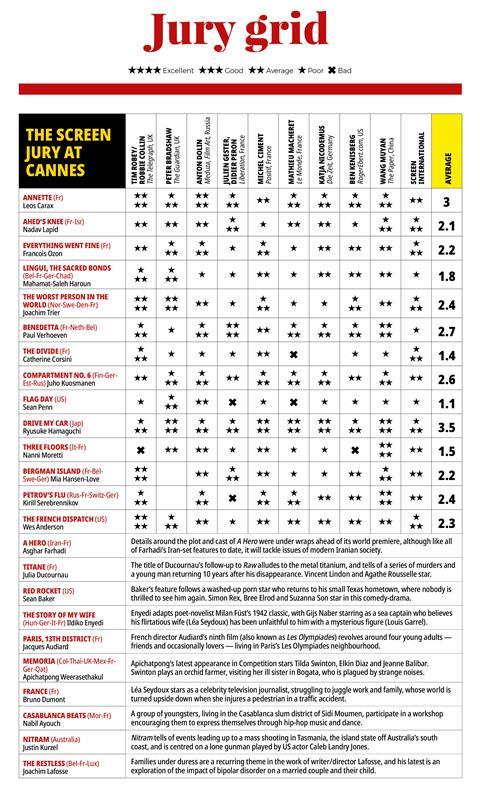 The film centres on the French bureau of New Yorker-style magazine and stars Frances McDormand, Tilda Swinton, Bill Murray, Timothée Chalamet and Owen Wilson.
Anderson's previous film, Isle Of Dogs, finished top of Screen's Berlin jury grid in 2018.
Petrov's Flu received an average of 2.4 (with one review still to come), the exact same score as Serebrennikov's previous Cannes competition entry Leto in 2018. The Paper's Wang Muyan awarded it a four, with four critics scoring it three (good). However, a 0 (bad) from Liberation dragged the average down.
Set in post-Soviet Russia, the film is based on Alexey Salnikov's novel The Petrovs In And Around Flu. Serebrennikov was unable to attend the Cannes premiere in person because he is banned from leaving Russia.
The final review for Juho Kuosmanen's Compartment No. 6 raises it to a 2.6 average, sitting just behind Benedetta in the grid. Asghar Farhadi's A Hero and Julia Ducournau's Titane are next up.