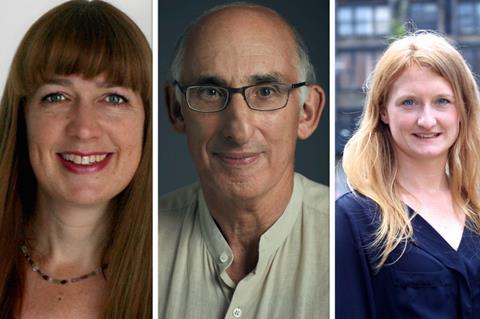 British producers who attended the recent Ventana Sur market with the UK's first delegation to Buenos Aires have cited Latin American co-productions as a model for independent filmmakers with international aspirations.
The vibrant event has also offered hope to one prominent Brazilian producer in search of funds at a time when Latin America continues to be plagued by political and economic unrest.
"We met lots of producers and directors and writers – not just from Argentina," said Origin Pictures founder David Thompson (Catherine The Great, Mandela). "It opens up one's vision of the region. This is not a part of the world people in the UK focus on. So much of what gets made is by co-production, which is a different way of making films from how we do it in the UK."
Thompson, the former head of BBC Films, was one of eight producers who flew to Buenos Aires under the auspices of BFI and Argentina's national film body, INCAA. The trip stemmed from an international co-production outreach programme that took place in the last two years at Cannes Film Festival as part of BFI's drive to help UK producers build global partnerships.
Thompson met Latin American producers to discuss The World At Night, a project set in Argentina during the so-called 'Dirty War'. "It's a very powerful drama set in that world that resonates today and it's about two friends who find themselves on different sides of the war," he said.
Thinking differently
Following a number of meetings with potential partners, Origin Pictures made a significant decision. "We're thinking of making this film in Spanish now," said Thompson. "One's view of things is different now; Spanish-speaking films have a huge market. As a producer I'm thinking of different ways to get films made now.
"As a nation in the UK we're still very embedded in our own ways and not so open to co-production," he notes. "These films are made from the most extraordinary combination of financiers who come together in a way we don't, and post-Brexit we may want to be doing more of this. There is audience demand for quality foreign-language content."
Camilla Deakin of Lupus Films (Ethel & Ernest and We're Going On A Bear Hunt, among others) has several projects in the early stages of development and reported having productive meetings with regional studios with similar 2D hand-drawn ambitions.
"You have to co-produce independent European animation, because it's very hard to raise financing and we're always looking for good partners," said Deakin, adding: "I had some good meetings with Chilean and Argentinian animators and producers. Their industry is evolving fast and they are starting to look outside their territories and do international work. We didn't close any deals there, but it gave me a much stronger handle on who is doing what."
I Am Not A Witch producer Emily of Quiddity Films has had a long-standing love of Latin American culture and lived in Brazil for a time. "It was always my dream to combine filmmaking with that part of the world," she said.
Morgan took three Latin American projects and while she declined to go into detail, she said she would like to set them up as co-productions between the UK and the region. "It was exciting for me hearing about projects set in a part of the world where I want to make films. The industry feels alive there, especially Argentina where they co-produce so much – and Chile, and Colombia with their production incentive."
The other UK delegates were Mike Chamberlain of Tearaway Film; Paula Vaccaro of Pinball London; Pietro Greppi of Lunapark Pictures; Uzma Hasan of Little House Productions; and Zadoc Nava –of Gholam Film.
Regional instability
There was the understanding among a broader pool of attendees that despite the region's political and economic instability – Venezuela has been mired in trouble for some time, unrest has broken out in Chile, traditionally a haven of security, and arts funding in Brazil is under attack from far Right president Jair Bolsonaro – parties can come together and get content made.
Ivan Melo, a Brazilian producer at Cup Filmes and Coala Filmes, attended the market for the fifth time and is well aware of the importance of regional partnerships at a difficult time for the arts in his country (Brazilian audiovisual promotional group Cinema do Brasil stayed away for the first time in many years, and attendees held up placards at the Ventana Sur awards ceremony bearing the legend, "Brazilian cinema on fire.")
"Argentina is now part of Euroimages, Uruguay and Chile have important treaties with very strategic countries Brazil don't have, and other South American countries are really necessary to look for financing from Ibermedia, for example," said Melo. "In these dark times of persecution against Brazilian artists we must look for international partners from countries where cinema is still welcome."
Melo took three projects to the market and said he had talks with potential partners on The Mother, the next film from Cristiano Burlan (Antes do Fim) that is scheduled to shoot from January 13-February 7, 2020.
Brian Sweet, president of Las Vegas-based APL Film, took two Argentinian sales titles – dark comedy Invisible Girl and sci-fi romance The Anomaly. This time Sweet was looking for new acquisitions with broad commercial appeal.
Of this year's crop, he noted, "This year the focus was on stories that could travel and thus be more commercial, whether genre or others. I think the films are continuing to expand their scope. Invisible Girl, from 2018 Ventana Sur, was a refreshing new story from a talented young filmmaker, with a story skewed to a younger audience. As the global industry trends towards content brands, it's important to have young filmmakers willing to take these chances."
Juan Pablo Félix's Ventana Sur winner Karnawal – a co-production between Argentina, Bolivia, Brazil, Chile and Mexico that won Primer Corte's European Vision and Le Film Français awards – has generated buzz and at time of writing international sales agents were circling.
Other titles that shone in the market included Natalia Meta's thriller The Intruder at Film Factory, Fernando Trueba's Colombian epic El Olvido Que Seremos from Caracol Televisión, and political thriller Jailbreak Pact sold by Meikincine.