Ryusuke Hamaguchi's Wheel Of Fortune And Fantasy and Maria Speth's Mr Bachmann And His Class are the joint winners of Screen's 2021 Berlin jury grid, with both films scoring averages of 3.3 from the eight critics.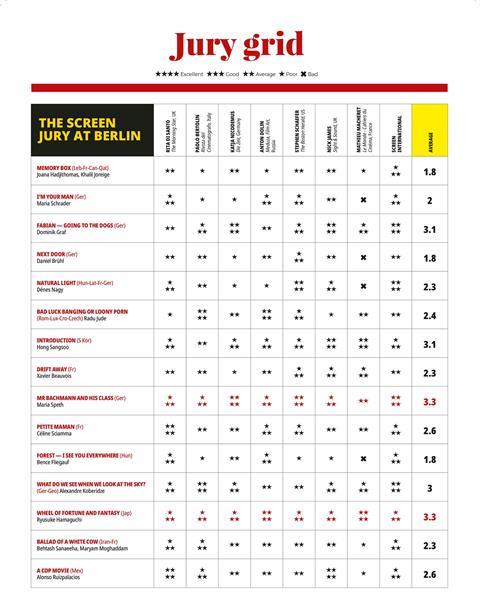 Wheel Of Fortune recorded six threes (good) and two fours (excellent); while Mr Bachmann took one two (average), four threes and three fours.
The winning scores were slightly down on the 3.4 average of Eliza Hittman's Never Rarely Sometimes Always from 2020, but up on the 3.0 average of winners Synonyms and A Tale Of Three Sisters from 2019, and level with Isle Of Dogs' winning score from 2018.
Neither top title was surpassed by the final scores for Alonso Ruizpalacios' A Cop Movie, which ended on an average of 2.6.
The Netflix Original documentary took a mixture of ones (poor), twos, threes and two fours, the latter from The Morning Star's Rita Di Santo and Sight & Sound's Nick James.
Radu Jude's Golden Bear winner Bad Luck Banging Or Loony Porn landed right in the middle of the grid, splitting the critics with scores of both one and four.
The mean across all scores was 2.5, halfway between 'average' and 'good', and up on the means of 2.3 and 2.2 from the previous two years.