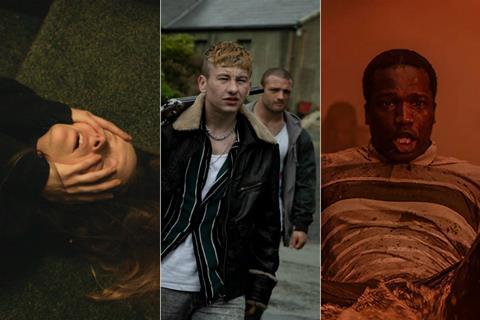 UK producers have emphasised their commitment to European co-production on the eve of the European Film Awards (EFAs), in which UK films are conspicuous by their absence.
Two non-UK actors in UK-European productions are the sole representatives in the EFA nominations: Viggo Mortensen for Falling and Natasha Berezhnaya for DAU. Natasha.
"From a filmmaker's point of view, we mostly are very pro-European," said Andrea Cornwell, the producer of Rose Glass's Saint Maud. This week the low-budget horror film received a record 17 Bifa nominations but is understood to not have been submitted to the EFAs.
Cornwell, an EFA member with credits including Suite Francaise and Apostasy, produced Saint Maud with first-time producer Oliver Kassman.
"We have this very strange detachment as British filmmakers," Cornwell suggested. "Partly because of the language we get aligned much more closely to the US than to our nearer filmmaking cousins, which is a great shame. There is an arthouse European sensibility that perhaps we're seeing a bit less of at the moment in the UK."
This week's Bifa nominations were dominated by genre films including horror His House from Remi Weekes, and Nick Rowland's crime thriller Calm With Horses, as well as Saint Maud, and Sarah Gavron's London-set drama Rocks.
Just four titles with a UK co-producer made the EFA longlist of 51 features - 39 fiction, 12 documentary - from which European Film Academy members vote for the nominations, down from 10 in 2019. (Those were Armando Iannucci's The Personal History Of David Copperfield, Vesela Kazakova and Mina Mileva's Cat In The Wall, plus DAU: Natasha and Falling.)
His House, with 16 BIFA nominations, was submitted but not longlisted for the EFAs.
"It would have been incredible for us to have got recognition [at the EFAs]," said His House producer Martin Gentles of Starchild Pictures. "It would have relevance for us if we had managed to secure nominations. It could just be that this is a really stellar year [for] good continental European fare."
The EFAs received roughly 400 feature film submissions this year, of which 30 were partly produced in the UK. These were whittled down to the longlist by a committee consisting of the EFA Board and invited experts. More than 3,800 academy members were then screened the films and voted for the nominations. EFA members then voted for the winners in the film, director, acting and screenwriter categories; an eight-member jury picked the recipients in the craft categories.
Mark Cousins' Women Make Film: A New Road Movie Through Cinema, produced by the UK's Hopscotch Films, will become the first recipient of the EFA Award for Innovative Storytelling, a new non-competitive prize for this year's ceremony.
Debut filmmakers
First-time directors are well represented in the Bifa nominations. Rowland's Calm With Horses was recognised in 10 categories. It was submitted to the EFAs but was not included on the longlist.
The film's producer Daniel Emmerson believes there is a generation emerging of UK filmmakers whose sights are firmly set on the audience.
"Our film is a crime drama and there's a genre component to it," he said. "If you look at Saint Maud and His House there is an audience ambition to them which is really exciting."
Rocks producer Faye Ward of Fable Pictures acknowledged the role of the UK public funding bodies in breaking out singular new voices. "It goes back a long way to the BFI, Film4 and the BBC," she said. "Behind all of those debut films, a version of those different parties will have been involved. That's spearheaded by the likes of Ben Roberts, Natascha Wharton, Lizzie Francke [at the BFI], Rose Garnett [at BBC Film] and Daniel Battsek, Julia Oh and Ollie Madden [at Film4]."
But Saint Maud's Andrea Cornwell believes UK producers should look to work more closely with their European partners, despite the end of the Brexit transition period on December 31.
"[UK filmmakers] should all be better at co-producing [with Europe]. It's been one of the great puzzles for a long time now," she said. "Unless you've got a very particular storyline to co-produce in Europe as a British filmmaker, it's harder than it is for some of the Europeans to collaborate with each other."