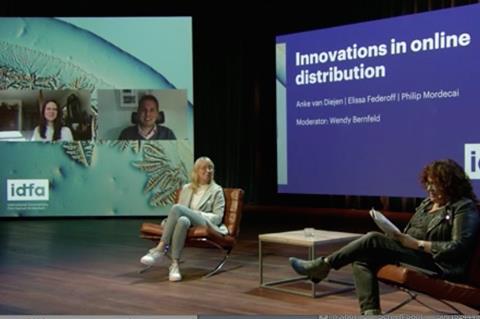 Releasing films during a pandemic is not a one-size-fits-all approach, said Elissa Federoff, president of distribution at US distributor Neon, during an IDFA panel on November 19 entitled 'Innovations in online distribution (beyond Covid-19)'.
Federoff explained Neon has been experimenting with several different models since the beginning of the US cinema closures in March.
"We've always played with different types of distribution, day and date or compressed windows," she noted, even of pre-Covid times. "Every movie needs its own type of release."
"We love movie theatres," she said. "That is where films have their best lives. But we've had to figure out ways to make our films just as exciting and vibrant [with other release models]."
With the US release of documentary Spaceship Earth in April, Neon used a virtual cinema model (where independent cinemas received a slice of the streaming revenue) but added more feeling of community with an extra layer: "Beyond the independent theatres we decided to incorporate local businesses like restaurants or non-profit organisations," Federoff explained.
Neon used the same model for Norwegian documentary The Painter And The Thief, which also used targeted conversations between filmmaker Benjamin Ree and the subjects of the film to add to the audience experience online.
The distributor engineered a different bespoke plan for Totally Under Control, the documentary investigating the Trump administration's handling of Covid-19, wanting the film to have an impact ahead of the US election.
Neon released it with a one-week theatrical window, including a huge drive-in premiere at Philadelphia Stadium. There was then a TVoD week and a launch on Hulu, before Neon took the unusual step of offering the film for free streaming on its own platform ahead of the election. Post-election, the film is back on Hulu.
For the upcoming releases of Viktor Kossakovsky's Gunda and Philippe Lacôte's Night Of The Kings, Neon is planning to capitalise on each film's cinematic qualities. It will only do an awards-qualifying run in virtual cinemas and will then hold both films back until later in 2021, when it hopes audiences are more keen to go back to cinemas. "That's the way that audiences need to see [these films]," she added.
Francis Lee's period romance Ammonite will get a three-week launch in cinemas, and then a PVoD release on December 4, with an initial price point of $19.99.
"This is the first time we're experimenting with PVoD, and we're excited about it. It offers the sort of perfect mix for this particular film in this particular time period," Federoff suggested.
Ways of working in 2020
Federoff was joined on the IDFA panel by Philip Mordecai, the former director of digital ventures for UK-based Curzon who recently launched his own consultancy Florido, and Anke van Diejen, managing director of Dutch streaming platform PICL. The chair was Wendy Bernfeld, a global VoD expert who runs Amsterdam-based consultancy Rights Stuff.
Bernfeld kicked of the conversation by pointing out four streaming trends in 2020: a huge upsurge in library VoD buying by platforms; festivals moving online or running hybrid editions; the introduction of virtual cinemas like Kino Marquee in the US or Modern Films in the UK; and the rise of premium VoD [PVoD].
Mordecai said PVoD needs to work collectively. "PVoD is really allowing rights holders to create a new choice during the theatrical window. It really does allow the ability to match demand from the audiences wherever they may be – that is a new opportunity for content owners, the virtual venue in parallel to OTT exploitation, not one cannibalising the other."
He added, "PVoD isn't at the expense of theatrical. For it to succeed and for customers to really understand it, it needs to be simultaneous with theatrical, not after or before. Let the consumers be empowered by it."
The model of PICL in the Netherlands is for cinemas to offer films online – an audience member can go to a cinema's website to buy a ticket for a physical screening for a film such as Honeyland, or to buy the online ticket instead.
"Way before Covid happened, art films and documentaries were already having a hard time in cinemas," said van Diejen. "We would work hard to get those films in cinemas, put a lot of energy and money in it. And then once they got into cinemas, they might be out within a couple of weeks. Then maybe they would hit a VoD platform or maybe they wouldn't. Already before Covid we thought we could do this more efficiently."
PICL had seven cinema partners at the start of 2020 and that has grown to 36 during the pandemic.
"It doesn't matter for the cinemas if [the audience] watch it at home or in their cinemas, it's their visitor anyways," explained van Diejen. "People really support their local cinemas. There are a lot of online possibilities and a lot to experiment with."
Dutch cinemas reopened last week with a maximum of 30 audience members per screen.
With the streaming wars in full swing in 2020 following the launch of services such as HBO Max, Peacock and Disney+, Neon's Federoff pointed to huge audience appetite for content across platforms. She said one recent US study found "people's threshold is actually surprisingly high," with consumers saying they are willing to subscribe to seven to 10 SVoD services.
"It is based on the content that they can get from the subscription, and also the price point. We've found that people who are highly motivated and highly interested will pay for several subscriptions."
Mordecai cautioned platforms can't be complacent: "As soon as [audiences] feel that they're not getting the value they expected, they will unsubscribe, and they will vote with their feet."
Van Diejen added that 2020 has taught the industry that more collaboration is key between physical and online. "I do believe that collaborating within the whole film chain is something that is here to stay or maybe should be here to stay."