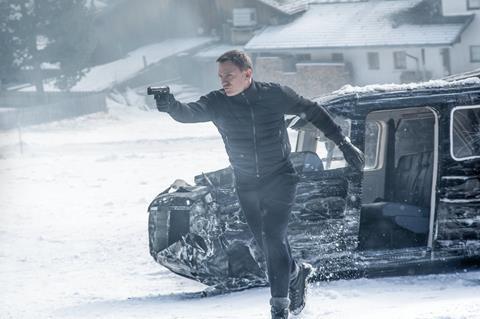 News last week that Universal had won the contract to handle international distribution on Bond 25 will not have come as a surprise to many in Hollywood.
For the past 18 months or so, every studio except Disney competed for the right to release the upcoming spy saga outside North America. In the end it was Universal's track record in managing successful global franchises like Fast And The Furious, Jurassic and the Illumination Entertainment tentpoles that won the day, as well as a handful of key relationships.
Duncan Clark, the president of distribution at Universal Pictures International, is well known to Eon Productions and MGM, the franchise's custodians and joint rights holders. Clark was a consultant on Casino Royale, which rebooted the spy franchise 12 years ago when Daniel Craig stepped into the iconic role, and marked the first release in Sony Pictures' four-film deal that expired after the most recent Bond film, Spectre, in 2015.
Clark is based in London, which puts him in the same time zone as Eon and that is an extra benefit as far as Eon chiefs Barbara Broccoli and Michael G Wilson will be concerned. Furthermore Eon and MGM are known to be fans of Universal chairman Donna Langley and Jeff Shell, chairman of Universal Filmed Entertainment Group, whose impressive string of franchise hits will have reassured the Bond custodians.
Hallowed milestone
"Barbara Broccoli wants a one billion dollar international gross," says one industry expert, noting that international box office accounts for the bulk of Bond films' global theatrical revenues. No 007 release has ever achieved this, and Universal knows a thing or two about getting to the hallowed milestone. Of only seven films to cross $1bn at the international box office, Universal has released three, and it has done so in the last three years: Furious 7 and Jurassic World in 2015, and Fate Of The Furious in 2017.
The other Hollywood majors in contention pushed hard to secure international rights to Bond 25, however none was able to trump Universal's all-round package of franchise experience, world-class team, and relationships with the Bond decision-makers.
Sony enjoyed a solid run: the four Bond films released during its tenure earned more than $3.1bn worldwide. However the custodians will not have been thrilled at the drop in global and international box office from 2012's Skyfall ($1.108bn / $804m) to Spectre three years later ($880m / $680m).
Warner Bros pursued the franchise aggressively, yet the executive team is in flux. The exit of marketing maven Sue Kroll and imminent departure of distribution ace Veronika Kwan Vandenberg weakened the studio's case.
Paramount, even with the popular Jim Gianopulos presiding over a good team, was not what Eon and MGM were looking for.
Fox achieved $1bn international successes with Avatar and Titanic and its current head of international Andrew Cripps is as good as it gets, yet the studio faces an uncertain future with Disney and Comcast in hot pursuit.
Buying into a franchise
Universal has nurtured many of its own world-beating franchises, and with Bond 25 it has got itself involved with a revered series that is nearly 60 years old. That appears to answer the question as to whether a studio can buy its way into a franchise. "Yes. You can if you have the right team, the bandwidth, the money and the know-how," says consultant and former international studio executive Randy Greenberg, who serves as executive producer on upcoming summer release The Meg.
It is understood that Disney, content with its stable of family features, animation, and muscular Marvel Studios, Lucasfilm, and Pixar brands, did not bid for the rights. "They have the bandwidth but they're not in it for a distribution fee – they want to own the property," says Greenberg. "Plus where does Bond fit into a Disney theme park?"
On that note, it is not hard to imagine customers lining up to sample a James Bond attraction at a Universal theme park alongside the likes of Fast And Furious, The Mummy, King Kong and Men In Black.
This last point might be contingent on Universal staying in business with Bond well past the year-end 2019 global launch of Bond 25. At time of writing the deal only covers Craig's fifth outing as the superspy, with Danny Boyle set to direct. Some in Hollywood are speculating that Bond 25 could be the mother of all auditions for Universal. On the other hand the parties may have something else up their sleeves.
MGM back in the distribution game
MGM, eager to get back into US distribution after a period out of the game, will release Bond 25 theatrically in the US through its recently announced joint venture with Megan Ellison's Annapurna Pictures. This is a massive step up for Annapurna, which generated an underwhelming $21.2m on Kathryn Bigelow's Detroit last autumn and will be eager to prove itself.
Deep-pocketed Ellison has picked her executives wisely. Eon likes Annapurna president Marc Weinstock, who among other senior posts was president of marketing at Sony on the three Bond films before Spectre. It also likes Annapurna president of marketing David Kaminow, who was Sony's president of worldwide strategic marketing and research and has worked on Bond films.
The MGM leadership will be happy that Erik Lomis currently serves as Annapurna's president of distribution. Lomis was a consultant and president of worldwide distribution at MGM, where he oversaw the release of GoldenEye, Tomorrow Never Dies, The World Is Not Enough, and Die Another Day.
It is understood that Annapurna is not a co-financing partner with MGM on Bond 25. It remains unclear what distribution fees have been agreed upon by all the parties involved, or who will foot the bill for P&A. Gary Barber, the former MGM CEO who dragged the studio from bankruptcy and got its house in order, is a shrewd businessman and would have played a big part in negotiations before the board fired him in March. Annapurna, MGM and Universal declined to comment on any of the deal points for this article.
Now the fun begins. Bond 25 is scheduled to go into production on December 3 and will be one of the most anticipated releases of 2019.