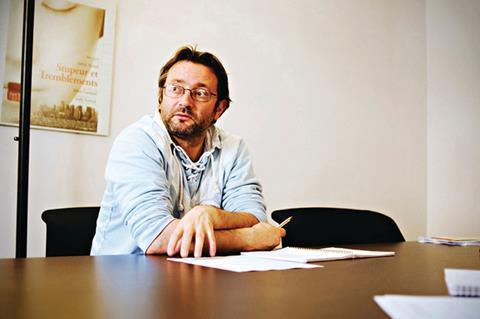 Pan-European production and distribution group Wild Bunch SA announced on Monday that it has reorganised its structure so that its international sales department will become a standalone company led by its founder and long-time chief Vincent Maraval.
The new company – which will retain the name Wild Bunch International (WBI) - will function as a subsidiary rather than as an in-house sales department.
The team will remain the same and it will continue to be based in the Paris offices of parent company Wild Bunch SA, which will also handle its day to day administration.
The reorganisation only covers the film sales division. Wild Bunch TV, which was launched in September 2015 as a separate department, is not part of the changes.
Vincent Grimond, CEO of the Wild Bunch group, said the "streamlined structure" would enable the international film sales unit to develop its business in a way that "would benefit the entire Wild Bunch family from both a creative and financial perspective".
Creative Artists Agency (CAA), which has long represented the US rights to Wild Bunch titles, will continue to collaborate with the new company both on US domestic sales and exploring new partners.
The announcement follows a busy Cannes for WBI topped by a Jury Prize for Ladj Ly's debut film Les Misérables, which it scouted ahead of the Berlinale and went on to sell to a slew of traditional distributors as well as Amazon for the US; Rebecca Zlotowski's An Easy Girl, which received the Directors' Fortnight SACD award; and Young Ahmed by Jean-Pierre and Luc Dardenne who received Cannes' best director prize.
Beyond the festival circuit, a number of WBI titles have enjoyed successful international box office runs over the last year, led by Hirokazu Kore-eda's 2018 Palme d'Or winner Shoplifters and Nadine Labaki's Cannes Jury 2018 prize winner Capernaum, which became a sleeper hit in China.
Maraval, who created the Wild Bunch film sales structure in the late 1990s under the auspices of Studiocanal before breaking out independently in 2002, talked to Screen International about the reasons for the move and its implications.
Screen: Can you explain in-depth what this announcement actually means?
Maraval: The big change is that international sales was a department of the Wild Bunch group and now it's a standalone company. The day to day operations are not going to change that much. We'll be working out of the same offices at Wild Bunch with the same team and I'll continue to oversee the film sales acquisitions and production investments. It's more of a structural change.
How will this new structure work and finance itself? Who retains the rights to the WBI catalogue?
WBI comes into operation as of now but as we continue to work with Wild Bunch SA there are already commissions from the films that we launched in Cannes which will cover our operational costs. It's not like we're starting from zero. Wild Bunch SA retains the rights to the catalogue. No capital or assets have changed hands in the reorganisation. Going forward, the new company will continue to sell the films generated by Wild Bunch SA and may in parallel also sell other films in which the group is not obliged to get involved.
What prompted the move?
There are two key drivers. On one side, it's a personal choice driven by my desire to re-focus on international feature film sales rather than trying to spread myself across lots of different activities.
The other reason, is that the Wild Bunch group is focusing its capital resources more and more on TV series and digital distribution. By spinning off international sales as a company I can focus on developing that side of the business without mobilising the group's capital and also work with other partners and investors which wasn't possible when international sales was a division of the group. Any new partners would be subject to the approval of the Wild Bunch group.
Has this move on your part been prompted because you're not interested in the wider corporate workings of the group?
It's not that the corporate side doesn't interest me, it's more that I think the wider development of the Wild Bunch group is going to take it towards new markets and new formats such as TV series while my savoir-faire is in international film sales. Given that that is no longer the group's priority I prefer to work more independently.
People might think I'm dated or old-fashioned but my analysis of today's market it that there is going to be a real battle between the platforms over the coming two or three years and that in the midst of that there will continue to be a niche market for the sorts of films we sell in cinemas.
Even if theatrical distribution is under pressure, I think arthouse films will continue to draw audiences in theatres, because some of the productions of Disney, Fox, Universal and Warner will go towards the platforms.
Against this backdrop, I prefer to devote my time to international film sales. I've chosen my position and I want to devote myself to that 100%. I don't think trying to move into TV series or digital distribution is the right personal move for me, it's not where my strengths lie, even though I think it makes sense for the Wild Bunch group as a whole and is an intelligent and coherent strategy. I want the Wild Bunch International label to be something that is even more focused than ever on auteurs, almost like a management company, which will benefit the rest of the group as well.
It's an interesting position given the difficult time many arthouse titles are having in theatres?
People have the impression the box office for arthouse is falling but it's not the case. On a worldwide level, entries are rising. If you look at Asia and Latin America, places with young populations, they're on the rise. We just had some tremendous successes in those new markets with Shoplifters and Capernaum.
The recent success of Studio Ghibli films in China [most recently with a re-release of Spirited Away] has shown us that these markets are becoming increasingly sophisticated.
Entries for arthouse films be might falling in the traditional markets of the US and Europe, but not in other parts of the world. People say that youngsters don't go want to go cinema, in Europe perhaps not, but in Asia, Africa or Latin America they do.
What are the implications for your Los Angeles based sales company Insiders and IMR, your joint venture with MadRiver Pictures' Marc Butan and Kim Fox?
Insiders will continue as before. Eva Diederix will continue to oversee the sales operations at WBI while I continue to develop Insiders in collaboration with Marc and Kim.
Do you have potential partners for Wild Bunch International already lined up?
We got one offer every three months and in the last four or five years there have been a number of potential offers which could have been compatible and were interesting but I couldn't explore them because international sales was a department of the wider Wild Bunch group but as a company I'm free to explore opportunities together with CAA and the Wild Bunch group.
Recently we've been approached by a lot of potential Chinese partners. Their objectives are never the same. Sometimes it's because they want us to sell their films, others want to invest in films, others want their own sales structure or a first option for their market on what we do.
At this moment, I don't have a set plan. It's not that I've identified a new partner, it's just now we are free to explore options if they come up.
My main desire is that the structure will be independent and free to at once manage auteur talents more closely, which I couldn't do when we were part of the group, and respond to partnership possibilities if they arise.