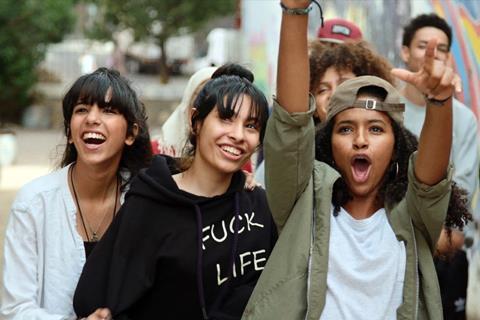 Wild Bunch International (WBI) has boarded sales on French-Moroccan filmmaker Nabil Ayouch's Casablanca Beats ahead of its world premiere in Competition at this year's Cannes Film Festival in July.
The film follows a group of youngsters living in the Casablanca slum district of Sidi Moumen as they participate in a workshop encouraging them to express themselves through hip-hop music and dance.
It was shot in Casablanca's Les Etoiles de Sidi Moumen (The Stars of Sidi Moumen) cultural centre, which Ayouch created in 2014 with novelist Mahi Binebine. The feature was inspired by a hip-hop workshop run at the centre by Moroccan rapper Anas Basbousi who appears in the film.
The centre itself takes its name from Binebine's novel about the events leading up to suicide attacks in Casablanca in 2007 committed by radicalised youth from the neighbourhood. Ayouch adapted that novel to the big screen as his 2011 feature Horses Of God, which premiered in Un Certain Regard in 2012 and was Morocco's submission to the Oscars the following year.
The director was last in Cannes with Much Loved which screened in Directors' Fortnight in 2015. His last film, 2017's Razzia, debuted in Toronto.
Casablanca Beats was lead produced by Ayouch's Ali N'Production. French distributor Ad Vitam is an associate producer on the film and has taken French rights. It is the first Moroccan feature to be selected for Competition in Cannes since Abdelaziz Ramdani's Âmes Et Rythmes in 1962.
Early deals on Cannes slate
WBI has also unveiled a raft of early deals on a number of Official Selection titles on its Cannes slate, including Palme d'Or contenders Titane and Nitram.
Julia Ducournau's fantasy drama Titane, which stars Vincent Lindon (winner of the Cannes best actor prize in 2015 for The Measure Of A Man), has sold to Germany (Koch Media), Scandinavia (Njuta), the Czech Republic and Slovakia (Film Europe), and South Korea (Watcha). Diaphana Distribution will release the film in France while Neon took US and Canadian rights back in 2019, before the film was shot.
It is Ducournau's second feature and first time in Competition after her debut feature Raw took Cannes Critics' Week by storm in 2016.
Justin Kurzel's Nitram, depicting the events leading up to one of Australia's worst-ever mass shootings, has also been acquired by Ad Vitam for France. As previously announced, Madman Entertainment has taken Australian rights.
Kurzel was previously in Competition in 2015 with Macbeth, having made his Cannes debut in Critics' Week with Snowtown in 2011.
Arnaud Desplechin's Philip Roth adaptation Deception has secured a raft of deals ahead of its debut in the festival's new Cannes Première section. The film has sold to France (Le Pacte), Benelux (Cineart), Switzerland (Xenix), Spain (Vercine), Italy (Nomad), Portugal (Midas), ex-Yugoslavia (Fivia), Czech Republic (Film Europe), CIS and Baltics (Paradise), Israel (Lev Cinema), Taiwan (Eagle), Singapore (Shaw) and Canada (Axia).
Adapted from Roth's 1990 novel revolving around a writer and his conversations with women from his past and present, it stars Denis Podalydès, Léa Seydoux, Emmanuelle Devos and Anouk Grinberg.
The company has also secured strong early sales on Un Certain Regard title Unclenching The Fists, the second feature of Russian director Kira Kovalenko. It has sold to France (ARP Sélection), Benelux (September Films), Italy (Movies Inspired), ex-Yugoslavia (Fivia) and Turkey (Bir).
Set against the backdrop of a mining town in the mountains of North Ossetia, the film revolves around a young woman's battle to break free from her controlling father. Kovalenko co-wrote the screenplay with Anton Yarush (Tesnota) and Lyubov Mulmenko. It is produced by Non-Stop Production, which has credits including Cannes prize-winners Beanpole, Loveless and Leviathan.