EXCLUSIVE: French photographer, art director and Prince aficionado Mathieu Bitton co-directs.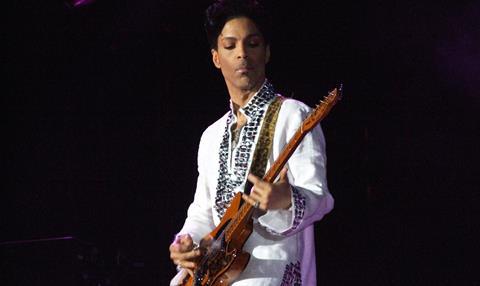 Wild Bunch has boarded sales on upcoming documentary Prince: Pop Life, capturing the music, life and legacy of the late pop legend who passed away in April 2016.
French-American photographer, art director and film-maker Mathieu Bitton, is co-directing alongside writer, journalist and TV producer Frédéric Bénudis.
The documentary features exclusive archive footage, fresh interviews and animated segments created by film-maker Joann Sfar, whose past credits include The Rabbi's Cat and Gainsbourg: A Heroic Life.
"It will be in the same vein as Amy," said Wild Bunch co-chief Vincent Maraval, referring to Asif Kapadia's Oscar-winning portrait of Amy Winehouse.
"It will be music driven with a lot of exclusive footage," said Maraval. "Joann's animated sections will be there to express Prince's creativity and the parts of his life when he disappeared from the public eye."
The portrait will be presented as a road trip taking in Paris, LA and New York.
Along the way, spectators will meet devoted fans, relatives, artists who influenced Prince such as Stevie Wonder as well as younger stars who in turn were marked by the artist.
It will also touch on Prince's off-stage life, including his contractual battle with Warner Bros., which led to him changing his name to an unpronounceable symbol and subsequently being dubbed The Artist Formerly Known As Prince by journalists. The film will encompass his complex love life and failed relationships, the death of his son and his embrace of the Jehovah's Witnesses in later life.
"There will be a lot of stuff from behind the scenes which fans were not aware about," teased Maraval.
Christophe Tomas at Save Ferris and Jean-Charles Felli and Eric Hannezo at Black Dynamite Production are producing. Tomas and Felli previously collaborated on Porn In The Hood. Hannezo's credits include The Players and fashion magazine documentary Mademoiselle C.
Paris-born Bitton is a well-known photographer, art director and filmmaker in the US music scene.
He is a long-time artistic associate of Lenny Kravitz and has also worked on projects with Quentin Tarantino and the likes of Grace Jones, James Brown, Sting and Bob Dylan.
He has been a self-professed "obsessed Prince fan" since the age of nine.
His personal collection of Prince memorabilia – which includes a rare copy of 1987 Black album which Prince ordered to be destroyed and a pair of heeled blue boots the artist wore to a Golden Globes party – was recently described by Billboard magazine as one of the best in the world.