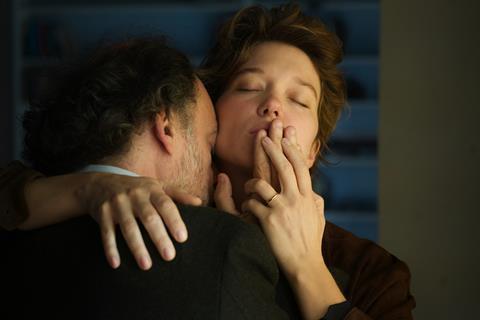 Wild Bunch International (WBI) is launching new films by Arnaud Desplechin, Claire Denis, Quentin Dupieux and Julia Ducournau at next week's Unifrance Rendez-vous with French Cinema.
As per company tradition, the Paris-based sales powerhouse has unveiled most of its French line-up for the coming year ahead of the annual event.
The Rendez-vous is taking place online from January 13-15 due to the ongoing Covid-19 pandemic.
Denis, Desplechin and Dupieux's new productions were all conceived against the backdrop of the Covid-19 lockdowns and political upheavals of last year.
Desplechin's Deception is a French-language adaptation of Philip Roth's 1990 novel about a US writer living in exile in London and his conversations with women from his past and present, his English mistress, a student he loved in another life and a former lover, who is confined to a New York hospital.
The filmmaker has been mulling an adaptation of Roth's novel for 20 years and had attempted to write a screenplay based on the novel twice before. He credits France's spring lockdown with giving him the space and mind-set to finally pull it off.
Denis Podalydès stars as the writer opposite Léa Seydoux, Emmanuelle Devos and Anouk Grinberg as the women. Produced by Why Not Productions, the film shot over the summer and is now in post-production. WBI have released a first image for the film.
Love triangle drama Fire by Denis brings Juliette Binoche and Vincent Lindon together on the big screen for the first time, alongside Gregoire Colin. Binoche plays a woman caught between two men: her long-time partner and his best-friend, who was once her boyfriend.
The filmmaker completed the screenplay with Christine Angot after the shoot of her Nicaragua-set romantic drama The Stars At Noon, starring Robert Pattinson and Margaret Qualley, was put on hold due to the pandemic. The latter title remains on the WBI slate with hopes now for a shoot in April.
Denis and Angot previously collaborated on romantic comedy Let The Sunshine In, which also starred Binoche. Fire is shooting for an expected delivery in time for Cannes 2021. WBI is selling it jointly with UK-French production and distribution company Anton in their first collaboration.
New Quentin Dupieux project
Quentin Dupieux's Incredible But True reunites the director with popular French actor Alain Chabat – after their 2014 collaboration on Réalité – and co-stars Léa Drucker, Benoit Magimel and Anaïs Demoustier.
It revolves around a couple living in a quiet suburb, whose lives are upended by a mysterious tunnel in the basement of their new home. It shot this autumn and is in post-production.
It follows hot on the heels of Dupieux's well-received comedy Mandibles, which premiered to critical acclaim out of competition in Venice last year. WBI is teaming once again with WTFilms for sales on the new film.
Further new titles on the WBI slate include writer and director Audrey Diwan's second feature Happening, an adaptation of French writer Annie Ernaux's autobiographical work looking back at a traumatic abortion she had as a young student in the 1960s when it was still illegal in France.
Rising French-Romanian actress Anamaria Vartolomei, who made waves in the 2016 drama Children Royals, plays Ernaux with support from Sandrine Bonnaire as her mother and Pio Marmaï as her professor.
WBI will also launch sales on Ducournau's thriller Titane, the highly-anticipated follow-up to her debut feature Raw, starring Vincent Lindon. The project was first announced at the end of 2019 and was due to shoot in the spring of 2020 until the pandemic struck. It finally filmed in the South of France in September and is now in post-production.
It is produced by Kazak Productions, in co-production with Film Four. Diaphana will release the film in France while Neon has US taken US rights.
The company is also introducing buyers to The Road Ahead, the directorial debut of Nessim Chikhaoui, who is best-known as one of the writers on the French hit comedy franchise Les Tuche.
Shaïn Boumedine, who made his big-screen debut in Abdellatif Kechiche's Mektoub, My Love, stars as a young man who takes a job in a care centre for teenagers after he fails his law-school entry exam. It is based on Chikhaoui's real-life experiences.
WBI will also participate in the Rendez-vous's online screening programme, premiering Yassine Qnia's drama A Brighter Tomorrow and market screening Maïwenn's DNA, Bruno Podalydès's French Tech, Samir Guesmi's Ibrahim and Giovanni Aloi's The Third War.