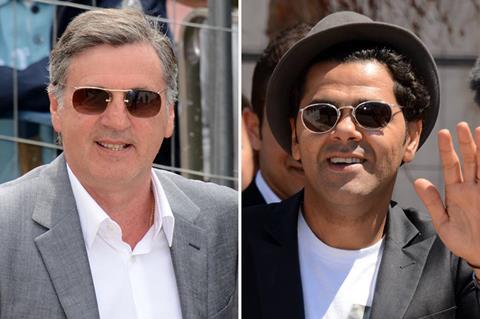 Wild Bunch International (WBI) has boarded sales on director James Huth's comedy The New Toy, co-starring Daniel Auteuil and Jamel Debbouze.
A remake of Francis Veber's 1976 comedy The Toy, it revolves around a journalist who becomes the plaything of the son of his newspaper baron boss but uses the situation to open the young boy's eyes to the fact that money can't buy everything.
A 1982 US remake directed by Richard Donner and starring Richard Pryor as the journalist was a hit at the box office, grossing $47m the year of its release.
French producer Richard Grandpierre, whose credits include the Les Tuche comedy franchise and Jean-Pierre Jeunet's upcoming, Netflix-backed sci-fi comedy Bigbug, has spearheaded the 2021 update.
"I've wanted to adapt Francis Veber's The Toy for years," said Grandpierre. "It's a comedy about power, money and servitude, in tune with issues in today's society even though the original film came out in 1976."
Huth, who has adapted the screenplay himself, is best known internationally for his Brice De Nice comedy franchise starring Jean Dujardin.
Sony Pictures International Production is also on board alongside Grandpierre's Eskwad banner. The shoot is scheduled for September and October 2021, for a 2022 theatrical release.
Two new Chinese titles
The comedy is the latest addition to WBI's varied EFM slate. The company will launch sales on two new Chinese films in post-production: Dong Yue's dark thriller A Cover-up and Shipei Wen's debut feature Are You Lonesome Tonight?.
A Cover-up is Dong's second feature following crime thriller The Looming Storm, which took $5m at the international box office and won multiple prizes including best new director at the Asian Film Awards in 2018.
Chinese star Huang Xiaoming plays a successful lawyer who once pushed a man into a river during a violent altercation. Haunted by this act, he decides to track down the victim's family to make amends but then realises he too has been tracked down.
The picture is currently in post-production. It is produced by Hong Kong studio Emperor Motion Pictures, which handles sales for Asia. Wild Bunch Distribution has taken French rights. WBI has the sales mandate for the rest of the world.
Are You Lonesome Tonight? is an atmospheric thriller hinging on the mystery surrounding the death of a man who is knocked over in a traffic accident but whose body is then found riddled with bullets. The cast features Taiwanese stars Eddie Peng and Sylvia Chang.
It is produced by Dirty Monkey Studios, the Beijing-based studio of Chinese blockbuster filmmaker and producer Ning Hao. ARP Sélection has taken French rights. WBI is handling all world rights apart from China, France, Hong Kong, Macau and Taiwan.
The company also handles Taste by Vietnamese director Le Bao which world premieres in Berlin's Encounters competition. WBI will also market premiere the film online and show it physically in Tokyo and Melbourne on March 1.
Other market premieres include Belgian director Nabil Ben Yadir's true-crime story Animals and Israeli filmmaker Tom Shoval's comedy-drama Shake Your Cares Away starring Bérénice Bejo.
WBI will also premiere promo-reels for a raft of highly anticipated films in post-production including Justin Kurzel's Nitram and Patrick Imbert's The Summit Of The Gods, as well as new footage for Ari Folman's Where Is Anna Frank and Claire Denis's Fire (co-sold with Anton) and a new promo for Zhang Yimou's One Second.