EXCLUSIVE: No French investment in film as traditional cinema funders shied away from project in act of "self-censorship", says Maraval.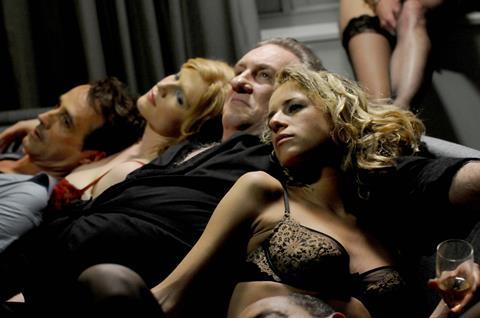 Wild Bunch will unveil the first scenes from Abel Ferrara's upcoming picture inspired by the downfall of former IMF chief Dominique Strauss-Kahn, during the Cannes Film Festival.
Initial scenes from the film, entitled Welcome to New York, will screen nearly two years to the date of Strauss-Kahn's shock arrest in New York on charges, later dropped, of attempting to rape a chambermaid at the Sofitel Hotel.
Ferrara's film - starring Gérard Depardieu and Jacqueline Bisset in roles inspired by Strauss-Kahn and his now ex-wife Anne Sinclair - wraps principal photography this Wednesday [May 8] in New York where it has been shooting since the start of April.
The feature is produced by Adam Folk, who previously worked on Ferrara's 4.44. Last Day on Earth. Wild Bunch is selling it internationally and distributing in France.
"The idea is to show two or three minutes towards the end of the festival in the same way we screened eight minutes for Wong Kar Wai's The Grandmaster last year," said Wild Bunch co-chief Vincent Maraval, who is distributing the film.
Sex scandal
The 2011 sex scandal changed the course of French political history. Strauss-Khan had been widely tipped to win the French presidency in elections in 2012. His arrest and subsequent revelations about his personal life left his political career in tatters.
Sinclair, one of France's most famous TV journalists and now the editor-in-chief of the French edition of The Huffington Post, stuck by Strauss-Khan throughout the storm paying $1m in bail on his behalf to get him out of New York's notorious Rikers Island jail where he was held after his arrest.
"Ferrara has isolated a Shakespearian dimension within the news story. The film is about a fall from grace, a theme-running through all of Ferrara's works," commented Maraval, citing films such as Bad Lieutenant starring Harvey Keitel as a corrupt New York police officer with a drug and gambling habit.
"He couldn't care less about Dominique Strauss-Khan or French politics… What he's interested in is what it means to be publically disgraced for an addiction, in this case a sexual one, and what the implications are for a couple who have been living in denial. When the issue is out in the open does it bring them together or tear them apart?," commented Maraval.
The director co-wrote the script with Chris Zois, a psychoanalyst who has experience of working with high-profile personalities with sexual addictions.
Two parts
Kicking off with Strauss-Kahn's departure from the IMF headquarters in Washington for the fateful mid-May weekend in New York, the picture is divided in two parts.
The first part captures the events surrounding Strauss-Kahn's arrest and is based on reports and video footage in the public domain, gathered by Ferrara who studied the case for two years.
The second part, set and shot against the backdrop of the luxury Tribeca home where Strauss-Kahn spent four months under house arrest with Sinclair by his side, is pure fiction.
Depardieu's character is not referred to as Strauss-Kahn but rather Mr. Deveraux, described in Wild Bunch's sales brochure as "a man driven by a frenzied and unbridled sexual hunger. A man who dreamed of saving the world and who cannot save himself."
"There is a dozen lawyers working on the project. Every scene shot is validated by lawyers - even the improvised ones - everything is checked," commented Maraval. "There is also an Error and Omission insurance so that everyone we sell the film to is insured against possible legal action."
Media furore
The shoot, in New York over the past six weeks, has prompted almost as big a media furore as the disgraced economist's original arrest. Depardieu himself has been at the heart of a media storm since January after taking up Russian citizenship and moving to Belgium to avoid high taxes planned by the Socialist government in France.
"I don't think we've ever had so much press for one of our films, which is ironic as we didn't want any. From the beginning everything and anything has been written about the production – a lot of it untrue… people have forgotten that first and foremost this is a piece of cinema," comments Maraval.
Comments from Depardieu in an interview with Swiss TV earlier this year that he was making the film because he didn't like Strauss-Kahn have fuelled speculation that the picture is anti-Strauss Kahn but Maraval says this is not the case.
"If anything Abel's script was sympathetic towards Strauss-Kahn. Whether this comes over in the film remains to be seen, he's even got the conspiracies in there," comments Maraval, alluding to theories that Strauss-Kahn was set-up by political opponents.
"Don't get me wrong, the character in the film is not particularly pleasant but he's multifaceted, complex."
Addictions
The idea for the film was first hatched, recounts Maraval, on the New York set of Ferrara's 4.44. Last Day on Earth.
Strauss-Kahn's tale struck a chord with the director because he too had suffered public humiliation in the 1990s when his drug addiction had come to the attention of the Hollywood studios on the set of Warner's Body Snatchers remake. As rumours spread that he had a drug habit, work dried up and his wife left him. The director is now completely "clean", says Maraval, and a Buddhist.
It was Peter Danner, chief of Paris-based sales company Funny Balloons and a producer on 4.44. Last Day on Earth,who first highlighted the parallel.
"The Strauss-Kahn scandal was everywhere, on the news, on news stands. Peter Danner commented to Abel that if you swapped sex for drugs it was his story. Abel replied a film about sex and politics would make a good subject for a film. It was then the idea started to take root," recalls Maraval.
Finance and self-censorship
It would take nearly another two years to get the project financed. Maraval and Danner initially looked for French producers to make the film but when traditional funders of French cinema – broadcasters and institutions like the CNC and regional funds – shied away from the project they took the project to the US instead.
"I don't think there was a single call from the Elysée or anyone else telling people not to back the film. People decided not to by themselves. They were too scared. It's a very French trait. There have been seven films on Berlusconi from Nanni Moretti's Caiman to Sabina Guzzanti's Draquila – all financed with Italian money. In America, Oliver Stone made W., Michael Moore made Fahrenheit 9/11 – both with American money," comments Maraval.
"For some reason it's not possible to do the same thing in France. People self-censor here, I don't why but the upshot is that having set out to make a film with a French producer to make a film that would have benefitted the French film industry we ended up making it without a single euro of French money. It reveals a lot about the financing system and our society."