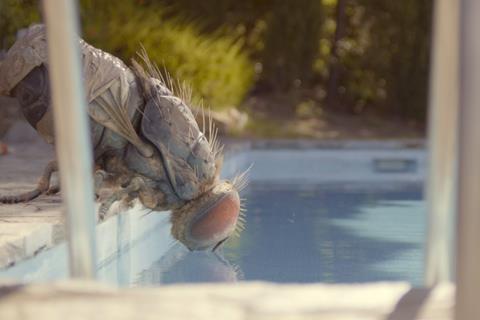 Paris-based Wild Bunch International (WBI) and WTFilms have tied up a raft of deals on French director Quentin Dupieux's surreal comedy road movie Mandibles, following its buzzy out of competition world premiere at the Venice Film Festival.
The film has sold to UK (Altitude), Germany (Koch Films), Italy (I Wonder Pictures) Switzerland (Praesens Film), Spain (Karma), Belgium (O'Brother Distribution), Norway (As Fidalgo), the Netherlands (Gusto Entertainment) and Brazil (Imovision).
As previously announced by Screen, Magnolia Pictures has snapped up US rights. The company previously released Dupieux's 2010 feature Rubber about a killer tyre with deadly telekinetic powers that wreaks havoc in a Californian desert.
In France, Paris-based Memento Films – which is also a co-producer on the film – is gearing up for a December 2 release.
The picture, which co-stars French comedy duo Grégoire Ludig and David Marsais as two goofy friends who find a giant fly trapped in their car boot and decide to train it as a moneymaking venture, was one of the critical and audience hits of Venice's extraordinary pandemic-year edition this month.
It is Dupieux's ninth feature after the offbeat Jean Dujardin horror comedy Deerskin which opened Directors' Fortnight in 2019. Kicking off with his 2002 feature debut Nonfilm, Dupieux has built his filmmaking reputation around wacky fare with an offbeat fantasy edge. He was last in Venice with the Alain Chabat-starring comedy Reality which premiered in Horizons in 2014.
Screen's Venice review noted a change of tone for Dupieux in this new work suggesting it could connect with a wider audience than his past films.
"We had no idea what to expect from the press in Venice in this exceptional year. We didn't know if they would be reactive, or even present, and then the film got this amazing response," said WBI sales chief Eva Diederix.
"The international press has never been so enthusiastic on one of Quentin's films," added Dimitri Stephanides, WTFilms co-head alongside Gregory Chambet. WTFilms previously handled sales on Deerskin as well as Dupieux's 2018 typically off-kilter whodunnit Keep An Eye Out.
The pair recounted how distributors who had previously released Dupieux's films had been circling the title prior to Venice but that sales started to flow after the first review and press reactions came through.
"It was encouraging because it shows there's still a market going on and that there's still hunger out there for these types of films," commented Diederix.
Mandibles was produced by Hugo Sélignac and Vincent Mazel at Paris-based production house Chi-Fou-Mi Productions. The company's past credits include hit comedy Sink Or Swim and thriller Carnivores by Jérémie and Yannick Rennier.
Patrick Quinet at Brussels-based Artemis Productions also took co-producer credits alongside Memento Films chief Alexandre Mallet-Guy.