Universal's biopic retains lead for third straight week, becoming Martin Scorsese's best-ever UK performer in the process; Warner Bros' Gravity to cross £30m in coming days.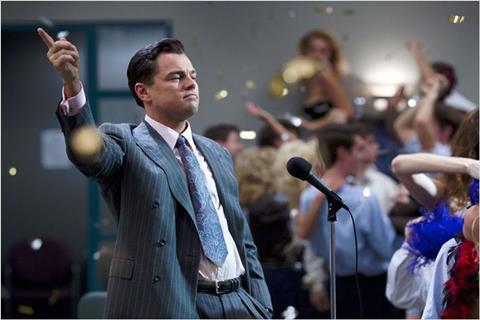 Falling just 34% in its third weekend, The Wolf of Wall Street continues to reign over the UK box office.
Universal's biopic added $3.9m (£2.37m) to retain the top spot for the third straight week and climb to $24.4m (£14.95m). As expected, the film is now Martin Scorsese's best-ever UK performer, surpassing The Departed's $21.2m (£12.8m).
The Wolf of Wall Street faces tough competition this week to go four consecutive weeks as the UK's number one, with the arrival of StudioCanal's Robocop and Fox's Mr. Peabody & Sherman, which had previews over the weekend.
It still stands a great chance of becoming the UK's best-ever 18-rated performer though as it attempts to chase down Hannibal's $35.5m (£21.6m) result.
Also for Universal, Lone Survivor charted sixth after it recorded a UK bow of $1.2m (£744,000) at an average of $3,103 (£1,898). Based solely on Fri-Sun takings, Lone Survivor would have landed fifth ahead of I, Frankenstein.
The debut is the fourth-best UK opening for director Peter Berg, a list led by blockbusters Hancock and Battleship. The Kingdom is the closest comparison with its $1.5m (£919,537) from 393 sites topping Lone Survivor.
Last Vegas is up to $10.9m (£6.7m) following a $348,000 (£213,000) fifth weekend.
EONE
Completing a familiar picture at the top of the UK box office, 12 Years a Slave held firm in second for the third straight week.
eOne's awards contender took a further $2.3m (£1.4m) for $22.3m (£13.7m) to date. It should hit £15m by the end of this weekend at the very latest, a terrific result for a film with a tricky subject matter.
eOne also provided this week's highest new entry in the form of That Awkward Moment, which charted third with a $1.6m (£961,167) UK bow.
The opening includes $300,000 (£183,900) in previews and came from 345 sites resulting in a healthy $4,550 (£2,786) site average, the second highest of the market behind The Wolf of Wall Street.
Delivery Man stands at $4.9m (£3m) after four weeks in play.
FOX
Counting towards next week's opening, Fox's 3D animation Mr. Peabody & Sherman already has $2.3m (£1.4m) in the bank thanks to previews on Feb 1 and 2.
Found footage horror Devil's Due has now scared up $3.3m (£2m) in the UK following a $177,000 (£108,466) third weekend through Fox.
Walking with Dinosaurs suffered its first major drop, taking $110,000 (£67,433) for a solid UK running total of $9.2m (£5.6m)
ENTERTAINMENT
Charting fourth thanks to previews, I, Frankenstein got off to a solid start in the UK with a non-final $1.3m (£810,238) debut through Entertainment. The result means the 3D action fantasy is already director Stuart Beattie's best-ever UK performer, topping Tomorrow, When the War Began.
Also for Entertainment, awards contender American Hustle is up to $19.9m (£12.2m) following a $935,000 (£572,243) seventh weekend (five of which have been nationwide), while August: Osage County added $470,000 (£287,612) for $2.1m (£1.3m) after ten days in play.
DISNEY
Recording its first weekend below £1m, Frozen posted a $1.3m (£774,096) ninth weekend at a slim drop of 26% week-on-week.
Disney's Annie winner is now up to a superb $59.6m (£36.5m) in the UK. The arrival of a sing-along version this Friday (Feb 7) in time for the school half-term could be the boost it needs to hit the £40m mark.
PARAMOUNT
Falling almost 50% in its second weekend, Jack Ryan: Shadow Recruit shot its way to a further $1.1m (£670,000).
Paramount's spy reboot is now up to $4.2m (£2.54m) in the UK. It will need a firmer hold this coming weekend if it's to challenge Patriot Games' $10.8m (£6.5m) as the best UK performer of the franchise.
STUDIOCANAL
Inside Llewyn Davis recorded a second weekend of $715,000 (£437,410) from 228 sites through StudioCanal as it dropped to ninth. The Coen brothers' latest is now up to $2.6m (£1.6m) in the UK.
WARNER BROS
The IMAX re-release is working for Gravity as it should cross the £30m mark in the UK in the coming days.
Warner Bros' critically acclaimed sci-fi grossed an extra $417,000 (£255,000) for an excellent $49m (£29.98m) to date. There's every chance that when final weekend figures are confirmed, it will have already hit £30m.
Also for Warner Bros, The Hobbit: The Desolation of Smaug has now journeyed to $69.7m (£42.68m) following a $263,000 (£161,000) weekend. It will end its run as the lowest grosser of the Lord of the Rings franchise in the UK.
Unsurprisingly following last week's soft opening, Grudge Match fell heavily in its second weekend, adding just $62,000 (£38,000) for a ten-day tally of $696,000 (£426,000).
LIONSGATE
With four saturation releases, there was always likely to be one casualty and that came in the form of Out of the Furnace.
Released in 213 sites through Lionsgate, the drama could only manage a $312,000 (£191,011) debut including previews. Director Scott Cooper's debut feature Crazy Heart posted a $168,000 (£102,917) UK opening from just 47 sites in Feb 2010.
The Railway Man stands at $7.6m (£4.6m) after four weeks in play.
SONY
Alex Gibney's Lance Armstrong documentary The Armstrong Lie posted a soft UK debut of $41,000 (£25,251) from its 70 sites through Sony. That's at least up on the $32,000 (£19,309) debut of Gibney's last UK release, We Steal Secrets: The Story of Wikileaks, but that was from less sites at 38.
SODA PICTURES
Released in five sites through Soda Pictures, Journal de France recorded a $6,800 (£4,146) UK debut.
UPCOMING RELEASES
This week sees saturation releases for eOne's Dallas Buyers Club, Fox's Mr. Peabody & Sherman (after previews on Feb 1/2) and StudioCanal's Robocop.
Lionsgate's The Invisible Woman opens in London ahead of a nationwide expansion on Feb 21, while Soda Pictures' The Patrol is among the films receiving a limited release.
Warner Bros' The Lego Movie receives nationwide previews on Feb 8 and 9, ahead of its release on Feb 14.