Producers plan feature debut of Student Academy Award winner Talkhon Hamzavi.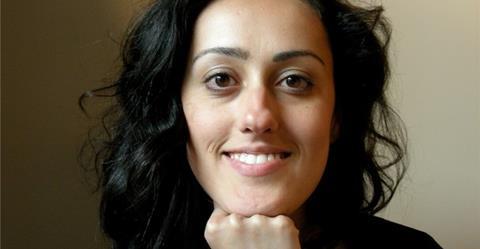 Contrast Film, the producers of Locarno Swiss competition film Wonderland (Heimatand), are planning the feature debut of Iranian-Swiss director Talkhon Hamzavi, Oscar nominated for Best Live Action Short with Parvaneh.
Stefan Eichenberger, one of the partners in Contrast Film with Ivan Madeo and Urs Frey, produced Parvaneh which received the Silver Medal in the Foreign Film category at the Student Academy Awards in 2013 as well as the First Steps Award for Best Short in Berlin in 2013.
"The collaboration with Talkhon went well and a great friendship developed that we were keen to continue working with her," producer Ivan Madeo told ScreenDaily during this week's Locarno Film Festival.
Her feature-length debut - entitled Hot Spot - is being written together with Lorenz Suter (The Eternal Tourist) and was awarded a development grant worth $25,000 (CHF 25,000) by the Société Suisse des Auteurs (SSA) at its annual funding session this week.
"The story's idea is so original, exciting and important that we had to be part of it," Madeo explained.
Hot Spot centres on a thirtysomething Iranian woman Tiwa who doesn't have any great desires to marry again in a hurry after the sudden death of her husband. She tries to find work in order to become independent and not bound to the demands of her conservative family.
When her new neighbour, the actress Maya, helps her get a job as a hairstylist on her next film, everything seems to be hunky dory. Until Tiwa realises on the first day on set that she is working for a porn movie.
Her initial reaction is to leave the set immediately, but, as her financial problems keep mounting, she comes to see this job as a way to her emancipation - as long as her family doesn't get wind of her new job.
¨The grant from SSA was awarded on the basis of a treatment, and the project is at an early stage of development,¨ Madeo noted.
Next year should see production by Contrast Film of Hannes Baumgartner's Waffenläufer, based on real events about one of the most talented sportsmen of his generation who lives a double life, following a routine life by day and preying on young women by night.
"It is a very ambitious project with elements of a biopic and a psychological drama,¨ Madeo said.
The development slate of the Zurich/Berne-based company also includes Stürm - Bis ich tot oder frei bin, inspired by the life of the 'jail break king' Walter Stürm who achieved near cult status in Switzerland for the number of times he managed to escape from prison.
Contrast Film was previously the producer of Stefan Haupt's award-winning docudrama The Circle (Der Kreis) which premiered in the Panorama of the Berlinale last year and was the Swiss candidate for the Best Foreign Language Film Oscar.
Wonderland to overcome language barrier
According to Madeo, the Swiss theatrical release for Wonderland is being planned by Look Now! for this November.
¨What we are wanting for this particular film is that we might be able to overcome the so-called 'Röschtigraben' [literally the Rösti ditch] between the German and French-speaking parts of Switzerland and open the film simultaneously in both parts. That's something which hardly happens here, but this film is more of a national affair because of the subject matter.¨
The release pattern for another Locarno title - Barbet Schroeder's Amnesia which had its world premiere on the Piazza Grande on Wednesday evening - illustrates the usual practice followed by Swiss distrubutors: Vega Distribution will release the film in French-speaking Switzerland next week on August 19, with the German-speaking part on September 17, according to Swiss Films.
Moreover, Lionel Baier's Lausanne-based euthanasia comedy La Vanité, which is screened on the Piazza Grande tonight (Aug 13), is scheduled to open for Frenetic Films in the western half of the country on Sept 30, and follows in the German-speaking half some three weeks later on Oct 22.
LOCARNO BRIEFS
Mikhalkov in town
Locarno's Il Rivellino art gallery is using this week's film festival as a backdrop to present its own Premio Boccalino Speciale to the Russian director and president of the Moscow International Film Festival Nikita Mikhalkov at a ceremony in its 'Peter Greenaway Media Centre' on Friday (August 14).
Mikhalkov's last feature film Sunstroke, which premiered in Belgrade last autumn, was partly shot at locations in Switzerland.
Meanwhile, Locarno's 68th edition awarded a Lifetime Achievement Leopard to the veteran Russian filmmaker Marlen Khutsiev last weekend.