Lost In London will be shot in one-take in the British capital in January.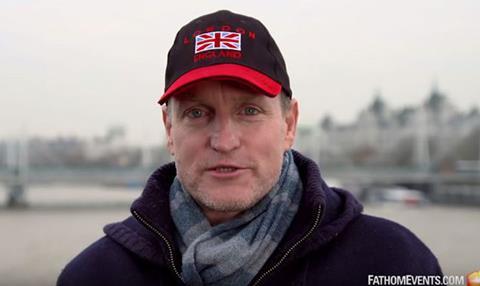 Woody Harrelson's feature debut as a director Lost In London, which he is planning to film in one take, will be broadcast live in US cinemas.
According to an interview that Harrelson gave to Entertainment Weekly, the shoot will commence at 2am GMT in London on January 20 (January 19 in the US) and will last for 100 minutes.
It will be simultaneously broadcast to more than 550 cinema locations across the US. Once shooting wraps, Harrelson will participate in a live Q&A.
Based on real-life events, the film will star Harrelson playing himself as he struggles to get home to his family. Co-stars will include Owen Wilson and Willie Nelson. Ken Kao of Waypoint Entertainment is producing alongside Harrelson.
"I've always loved theatre and film and wanted to find the best way to merge the two. When I decided to shoot this in real time I realized it wasn't quite like true theatre because the one piece missing was a live audience. By broadcasting the film live as its being shot I hope to truly blend the excitement of live theater with the scale and scope of film," commented Harrelson in a release.
Teasing the project in a short video, Harrelson says "No one's ever shot a movie and live-broadcast it in cinemas at the same time. No one's ever been that stupid, until now."
He adds that the film is based on "the worst night of his life". As reported by numerous news outlets in June 2002, Harrelson spent a night in a London prison cell after partying in China White nightclub.