Sony's The Angry Birds Movie falls only 7% in its second weekend to reach $6.7m (£4.6m) to date.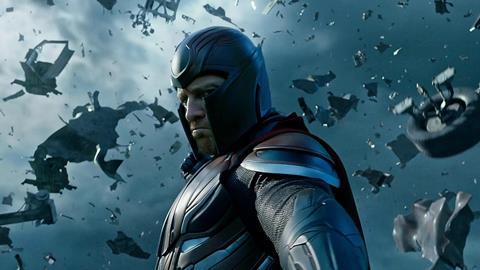 UK TOP FIVE
| Ranking | Film/Distributor | Weekend gross | Running total |
| --- | --- | --- | --- |
| 1 | X-Men: Apocalypse (Fox) | $10.6m (£7.35m) | $10.6m (£7.35m) |
| 2 | The Angry Birds Movie (Sony) | $2.9m (£2m) | $6.7m (£4.6m) |
| 3 | The Jungle Book (Disney) | $2m (£1.4m) | $60m (£41.3m) |
| 4 | Captain America: Civil War (Disney) | $1.9m (£1.3m) | $50.1m (£34.5m) |
| 5 | Bad Neighbours 2 (Universal) | $1.1m (£766,279) | $7.3m (£5.06m) |
FOX
X-Men: Apocalypse has become the first non-Disney number one in more than a month at the UK box office.
Fox's latest instalment sliced its way to a decent non-final $10.6m (£7.35m), including $3m (£2.05m) in previews, from its 598 sites. Its Fri-Sun tally of $7.7m (£5.31m) would have also seen it comfortably top the chart.
In terms of X-Men outings in the UK, that marks the third biggest opening behind Deadpool ($19.9m/£13.73m) and X-Men: Days Of Future Past ($13.3m/£9.14m). Discounting previews, it only ranks as the sixth biggest.
Relatively soft critical response could prevent it from challenging Days Of Future Past's $39.4m (£27.1m) result, but Apocalypse will hope to surpass X2's $30m (£20.66m) to end its run as the third biggest X-Men outing.
Also for Fox, Pathe release Florence Foster Jenkins fell 48% with a $352,000 (£243,217) third weekend for $3.7m (£2.6m) to date.
Secret Cinema's production of 28 Days Later… has now scared up $1.6m (£1.13m) with one week left in its run.
SONY
The Angry Birds Movie remained in second after an excellent drop of only 7% in its second weekend.
Sony's animated adaptation flew to a further $2.9m (£2m) for a ten-day tally of $6.7m (£4.6m). With the majority of its take so far coming over Sat-Sun, its Saturday take was up 1% week-on-week, while Sunday only dropped 5%.
Alice Through The Looking Glass could affect it from this Friday [May 27], but The Angry Birds Movie should prosper over the upcoming school holiday.
Also for Sony, The Silent Storm grossed $5,200 (£3,600) from its 11 sites on its UK debut.
DISNEY
The Jungle Book fell a remarkable 12% on its way to a $2m (£1.4m) sixth weekend as it stayed in third.
As expected Disney's live-action adaptation has now swung past £40m and is up to a stunning $60m (£41.3m), with £45m still likely as long as the arrival of stablemate Alice doesn't hurt it too much.
Also for Disney, Captain America: Civil War fell a better-than-expected 53% with the arrival of X-Men: Apocalypse.
Marvel's latest fought to an extra $1.9m (£1.3m) for $50.1m (£34.5m) after four weeks in play, and will hope to overtake Iron Man 3's $53.8m (£37m) as Marvel's third biggest outing in the coming weeks.
Zootropolis is now Disney Animation's third highest grossing UK release of all time with $33.6m (£23.14m).
UNIVERSAL
Bad Neighbours 2 rounded off this week's top five with a decent drop of around 30% in its third weekend.
Universal's comedy sequel partied to an extra $1.1m (£766,279) for $7.3m (£5.06m) to date. It could still match the £7m+ results of director Nicholas Stoller's previous efforts, Forgetting Sarah Marshall and Get Him To The Greek.
ICON FILM DISTRIBUTION
A Hologram For The King delivered an unremarkable non-final $550,000 (£378,221) UK bow from its 375 sites through Icon Film Distribution.
That marks one of director Tom Tykwer's lowest-ever UK debuts despite being one of his widest releases, but there's a chance that the appeal of Tom Hanks can draw in sturdier midweek numbers.
STUDIOCANAL
Our Kind Of Traitor fell around 40% on its way to a $304,000 (£209,176) second weekend.
Studiocanal's John le Carré adaptation now stands at $1.2m (£809,934) and faces a challenge to match A Most Wanted Man's $3m (£2.04m) UK result.
LIONSGATE
Sing Street expanded nationwide following its successful Irish launch to add $183,000 (£126,269) from its 84 sites.
Lionsgate's critically acclaimed musical now stands at $1.4m (£984,331), and could still overtake Begin Again's $2.3m (£1.6m) result to become director John Carney's best-ever performer.
EONE
Now in its sixth week, eOne's Eye In The Sky targeted an additional $122,000 (£84,245) for a healthy $7m (£4.8m) to date.
Also for eOne, Everybody Wants Some!! couldn't rebound from its soft opening as it grossed $103,000 (£71,119) for $471,000 (£324,121) after two weeks in play.
CURZON ARTIFICIAL EYE
Posting a minimal drop in its second weekend, Curzon Artificial Eye's Mustang added $80,000 (£55,158) for $250,000 (£171,977) so far.
Also for Curzon Artificial Eye, the re-release of Ivan's Childhood recorded a UK debut of $15,000 (£10,283), including previews, from its nine sites.
ALTITUDE
Falling 56% in its second weekend, Altitude/Picturehouse Entertainment's Green Room took $61,000 (£42,363) for $384,000 (£265,568) to date.
Also for Altitude, The Call Up grossed $2,900 (£2,016), including previews, from its one-site release.
DOGWOOF
Released in 17 sites through Dogwoof, Heart Of A Dog posted a UK bow of $24,000 (£16,192).
UPCOMING RELEASES
This week sees saturation releases for Disney's Alice Through The Looking Glass, Sony's Money Monster and Warner Bros' Top Cat Begins.
Curzon Artificial Eye's Love And Friendship receives a wide release, while eOne's Bobby, Metrodome's The Daughter and Studiocanal's Mon Roi are among the films receiving a limited release.
Lionsgate's Minuscule: Valley Of The Ants receives an exclusive release at Vue.
Bank Holiday Monday [May 30] sees the saturation releases of Universal's Warcraft: The Beginning and Paramount's Teenage Mutant Ninja Turtles: Out Of The Shadows.