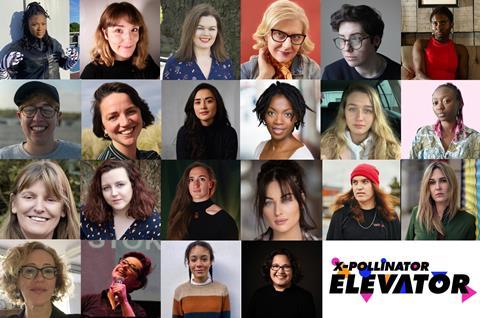 Irish development and networking body X-Pollinator has selected 20 emerging female and non-binary writers and directors to participate in its latest programme called Elevator.
Elevator aims to offer its participants a comprehensive understanding of the development process through case studies and panels. The program will consist of six online sessions, with speakers including director Kate Dolan (You Are Not My Mother), festival programmer and producer Roisin Geraghty (Sunlight), a case study with production company Fable Pictures (Anne Boleyn, Rocks) and an introductory pitching workshop with pitch and public speaking coach Bonnie Williams, supported by Creative Europe Desk Ireland.
These sessions will lead up to an online pitch event, where the participants can opt in to present their project in front of an industry panel. The winning pitch will be awarded development funding of €2,500 to write a treatment, and have the support of a script editor, producing mentor and a designer to create a pitch book for their project.
Elevator's goal is to support a wide range of under-represented and emerging voices. More than half of its participants will be from outside the Dublin region.
The participants are: Oyindamola Animashaun, Al Bellamy, Nicola Cassidy, Becky Cheatle, Ker Costello, Chiamaka Enyi-Amadi, Alba Fernandez, Martha Fitzgerald, Nell Hensey, Esosa Ighodaro, Nina Jablonska, Tosin Jerugba, Sinead Lemass, Caitlin Magnall-Kearns, Tania Notaro, Allie O'Rourke and MJ Stokes, Lynn Rafferty, Jenny Roche and Hazel McGuire, Shannon Welby, and Kristina Yee.
The initiative is supported by Screen Ireland, Screen Skills Ireland and the Broadcasting Authority of Ireland.
Previously, X-Pollinator initiatives have led to the establishment of an Irish branch of Raising Films, which supports parents and carers in the screen sectors, and led to a commissioned report on carers and parents in the screen industry. Two thirds of the projects selected for its last initiative, Incubator, are now in active development.
Founded by producer Katie Holly, X-Pollinator is a cross-disciplinary professional development and networking initiative. It aims to kickstart collaborations between female and non-binary writing and directing talent and take action to address the lack of gender diversity in the Irish screen industry. X-Pollinator is run by co-creative directors Katie Holly and Lara Hickey, and course manager Evan Horan. "We are helping to make change, build networks and start conversations," said Holly.
"The potential is undoubtedly there to roll this out across other regions and countries across Europe or beyond."