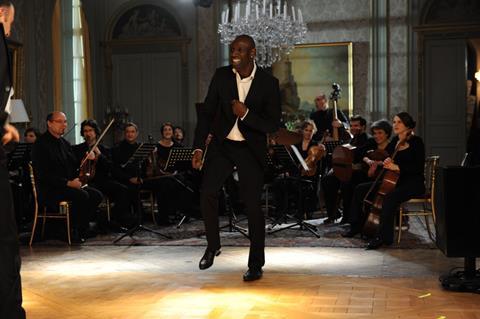 Yalla Yalla, the joint venture between Dubai-based Front Row Filmed Entertainment and financing, production and sales outfit Rocket Science, has acquired remake rights for an Arabic-language version of the French hit comedy-drama Intouchables.
Olivier Nakache and Eric Toledano's 2011 original starred Omar Sy and Francois Cluzet as a live-in carer from the wrong side of the tracks and a wealthy quadriplegic, who strike up an unlikely friendship.
To this day, it remains the third biggest box office hit in France, after Titanic and Dany Boon's Welcome To The Sticks, and the highest-grossing foreign-language film worldwide of all time with a global box office of $426m.
The new version will likely be a Saudi-Egyptian co-production with the director and cast to be announced at a later date, Yalla Yalla's founding partners said.
"This would mark the first co-production for a feature film between Egypt and Saudi touching on a universal story that could bridge two entirely different cultures," said Hisham Alghanim and Gianluca Chakra, president and managing partner of Front Row Filmed Entertainment respectively.
It will be a fifth remake for the hit film after Neil Burger's 2017 English-language adaptation The Upside as well as versions in Telugu and Tamil, Spanish and Hindi.
"It is a very exciting proposition to be able to bring such a globally recognisable property to the territory – the first of many," said Rocket Science CEO Thorsten Schumacher.
Yalla Yalla struck the remake deal with France's Gaumont, which handled international sales on the original as well as produced it with Paris-based production powerhouse Quad and Nakache and Toledano's Ten Films.
It was negotiated by Ian Cooper of Cooper Law for Yalla Yalla and Cecile Gaget for Gaumont.
"We're very glad that such an iconic film will get an Arabic language remake, especially with partners we have known for a very long time and with whom we feel comfortable adapting this gem with the care it deserves," said Gaget.
Front Row Filmed Entertainment will handle all Middle East and North African rights for the title and Rocket Science will handle all international sales.
It is the second Arabic language remake to join Yalla Yalla's slate since its launch last May, after Perfect Strangers which is currently in pre-production.
Headquartered in Dubai, with offices in London and New York, Yalla Yalla is focused on creating bringing high-end Arabic-language film and TV for local markets in the MENA region as well as the Arabic-speaking diaspora and western audiences that consume foreign-language content.
Dubai-based co-founding company Front Row Filmed Entertainment LLC is a leading independent film distribution company that acquires all rights for distribution in the Middle East and North Africa, Upcoming releases including One Piece: Stampede, Judy, Ordinary Love, Flag Day, The Trial Of The Chicago 7 and The Minuteman.
Since its launch in 2016, Rocket Science has financed, produced, packaged and sold over two dozen high-profile features including At Eternity's Gate, The Old Man and the Gun, Destroyer and French Exit.