Good Company Films will combine the producers behind The Girl With the Dragon Tattoo and Lar von Trier's Dancer in the Dark; three projects already in development.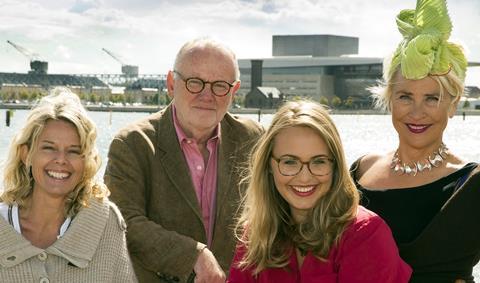 Anni Fernandez, who stepped down CEO of Sweden's Yellow Bird last week, has quickly resurfaced as the CEO and producer at new Danish production outfit Good Company Films.
Based in Copenhagen, Fernandez has launched the new company with Vibeke Windeløv, Stinna Lassen and Ole Søndberg.
Windeløv has produced more than 35 titles for directors including Lars von Trier and Susanne Bier and joins the company as executive producer.
Lassen, who recently finished producing the first season of new crime series The Team, joins Good Company as a producer.
Søndberg, founder of Yellow Bird and executive producer of the Wallander and Millennium franchises, joins as executive producer.
In a joint statement, the partners said: "Scandinavian film has during the past years enjoyed a tremendous amount of success, and it is our mission to continue strengthening this position.
"For us this means working closely with creatives, investing in new talent and focusing on developing first class content for future distribution platforms."
Projects
The company, which opens its doors today, already has projects in development: a fantasy for children based on the bestselling novels by Lene Kaaberbøl (The Shamer's Daughter); a psychological thriller directed by upcoming director Milad Alami; and a political miniseries based on real events.
Lassen and Windeløv, who have worked together for the past three years, said they were excited to join forces with their two new partners: "Ole and Anni have proven that they can create successful international productions with that very distinct Scandinavian feel.
"Ole has an exceptional talent for spotting strong stories and sensing visionary ideas. He also has the perseverance to finance, execute and complete them.
"Anni is a very experienced and strategic leader with an excellent knowledge of international financing. Together, their experience and drive will without a doubt kick-start our company and productions in the best possible way".
Fernandez and Søndberg, who have collaborated on some of the most successful Scandinavian film franchises, said of their new partners: "We are very happy and proud to share a future with two of the strongest and most charismatic women in the Danish film industry.
"Vibeke with her powerhouse experience of combining strong creative voices with a sound financing and Stinna with her unique energy and detailed hands-on production experience.
"Our expectations are sky-high, and we are very excited to get started."