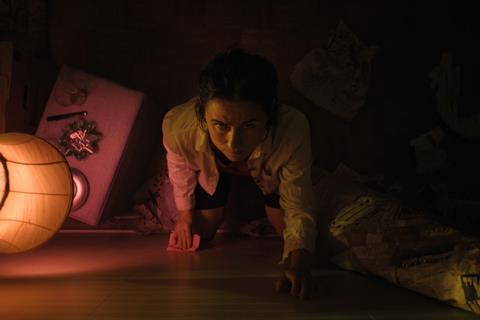 Arthouse genre sales specialist Yellow Veil Pictures has launched a North American distribution arm and is planning its first release, Frida Kempff's Swedish Sundance thriller Knocking.
The film will get a theatrical and digital release in autumn and stars Cecilia Milocco as a young woman who moves into a new apartment after suffering a traumatic event and is plagued by a series of persistent knocks and screams.
Emma Broström adapted the script from Johan Theorin's novel and Erik Andersson produced for Läsk in collaboration with SVT and the Swedish Film Institute through the initiative Moving Sweden, with support from Norrköpings Filmfond. Federico Ambrosini served as executive producer.
Hugues Barbier, co-Founder of Yellow Veil Pictures, said: "Distribution felt like the natural extension of Yellow Veil Pictures, as our long time goal has been to be part of the success and visibility of the movies and creators we love.
"Having the chance to kick off this endeavour with Frida's dazzling and timely debut is the perfect way to convey the company's aspirations, as well as bringing to the North American audience an audacious and necessary experience."
Justin Timms, Joe Yanick, and Hugues Barbier brokered the deal with Bankside's Yana Georgieva on behalf of the filmmakers.
Yellow Veil Pictures' sales slate includes Tilman Singer's feature debut Luz, Larry Fessenden's Depraved, and Philip Gelatt and Morgan Galen King's SXSW adult fantasy animation The Spine Of Night.