CREATIVE WEEK: Zoella agent and Maker Studios discuss potential for talent crossovers.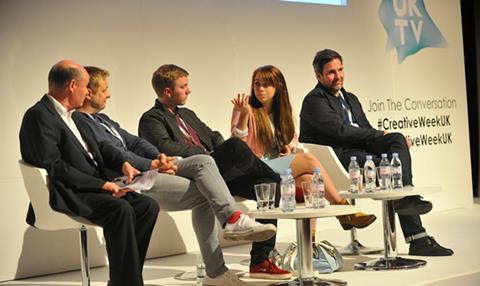 On the same day YouTube starKian Lawley was cast alongside Bella Thorne (Blended) in AwesomenessTV's US Black List feature Shovel Buddies, an industry audience at MBI's Creative Week conference in London heard about the potential for online talent to cross over into film and TV.
Dominic Smales, managing director of Gleam Futures, the social talent agency which handles online sensations Zoe Sugg, aka Zoella, and Alfie Deyes, told industry that the migration of online talent to longer format media was well underway.
"That development is well underway already," he explained. "There has already been a number of movies released in the states. I know Maker Studios will be prolific in that space. It will be very exciting to see content developed by talent as producers for cinema and TV. We've already got a number of things in development."
A number of film companies are understood to be circling screen rights to record-breaking book Girl Online, UK vlogger Zoella's debut novel which last November sold faster than JK Rowling's debut Harry Potter book and five times faster than Fifty Shades of Grey in its first UK week.
Sugg has more than 7 million Youtube subscribers and her blog Zoella has received more than 140 million total visits.
Also on the panel yesterday was vlogger Bethan Leadley who was recently cast in micro-budget film Hungerford II alongside a host of Youtube stars including comedian/product reviewer Stuart Ashen, who boasts 800,000 Youtube subscribers and 177,000,000 Youtube views.
In the US, online star Grace Helbig, who also made the leap into feature films in indie comedy Camp Takota, boasts more than 2 million Youtube subscribers.
Shovel Buddies star Thorne, a Disney child star, has worked successfully in web series, TV and features.
However, also speaking on the same panel Maker Studios MD Dan'l Hewitt cautioned that the leap to longer formats wouldn't suit all online talent:
"Short form digital is as different as TV is to film or print is to radio so it doesn't always work. Talent shouldn't do something just because they can. Pewdie Pie, for example, has done South Park but that's all he has been up for so far."
At least one recent report suggests that youth audiences are likely to stick with their favourite vloggers as they both get older, which could be a positive sign for industry weighing up the potential for crossover talent to connect with ready-made audiences consistently across different platforms.
Social and digitally-oriented companies are certainly hiring with longer form content pushes in mind.
Gleam Futures recently hired Maverick digital producer and former Channel4 exec Claire McArdle to develop a range of TV ideas for its YouTube talent roster.
Just yesterday in the states independent cinema guru Bob Berney joined Amazon Studios as head of movies distribution and marketing.
While its early days for the crossover of digital and social talent to longer formats, the push is underway.
It was certainly telling that on a day that included a number of heavyweight keynotes and enticing panels, it was the day's last session 'Generation Disruption' that generated the most audience questions and buzz.