The director hopes 'The Great Wall' will be the first China-US co-production to achieve worldwide success.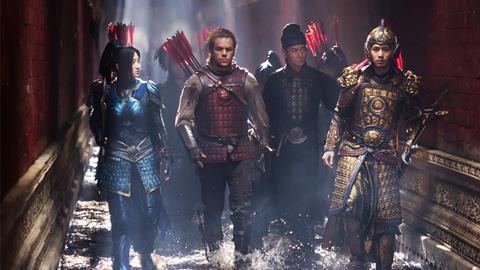 "Imagine defending against monster beasts on the Great Wall. Imagine the Crusaders came to steal gunpowder from the Chinese during the Northern Song dynasty," says Zhang Yimou of the period of history that inspired his latest feature The Great Wall. "It's whimsical and ingenious, beyond imagination and totally out of the box."
At $135m, The Great Wall is billed as the most expensive film ever shot entirely in China. And while the film has been gathering plenty of buzz, its East-West storyline, China-US co-production structure, and the fact it has been shot in English are also under close scrutiny.
"It's impossible for everyone to like the film," says Zhang. "But I hope there's something for each audience, something the Chinese audience finds acceptable and the foreign audience feels comfortable with."
Epic undertaking
Zhang was sent the script by Peter Loehr, CEO of Legendary East, the Beijing-based division of US-based Legendary Entertainment, in which China's Dalian Wanda Group acquired a majority stake earlier this year. Legendary East also has a co-financing deal with China Film Group.
Written by Carlo Bernard, Doug Miro and Tony Gilroy, the script appealed to Zhang, who saw the opportunity to showcase traditional Chinese culture and mount action sequences on the iconic Great Wall for the first time on such a large scale.
As the man behind the opening ceremony of the 2008 Beijing Olympics, Zhang is no stranger to extravagant, large-scale productions. He also has experience working on a China-US collaboration following his 2011 Second World War historical drama The Flowers Of War, which starred Christian Bale. But The Great Wall is far more challenging, with a crew of more than 1,000 people from more than 30 countries. Zhang's regular cinematographer Zhao Xiaoding is one of the few Chinese key crew members and he only completed half of the film because of his schedule.
Zhang, who does not speak English, hand-picked the US heads of department through interviews and communicated with them, both on and off-set, through translators. Some 70-80 translators were employed, with several assigned to each department.
To speak with his western cast, led by Matt Damon, Pedro Pascal and Willem Dafoe, he relied on experience and instinct.
"I don't understand what they're saying while filming, but I can tell whether their performance is good or not through my eyes," he explains. "Instead of listening to their lines through my ears, I focus on their facial expression and body gestures. It's a special method and it works for me perfectly."
Chinese talent
Zhang is well known for discovering local talent, from Gong Li (Red Sorghum) and Zhang Ziyi (The Road Home) to, more recently, Zhou Dongyu (Under The Hawthorn Tree) and Ni Ni (The Flowers Of War). But this time, his leading actress Jing Tian is not a newcomer. The role demanded an experienced actor who could speak English, dance and hold her own in scenes with Damon.
While it is a commercial decision to make an English-language film of a Chinese story for a global audience, Zhang points out the conversations between the Chinese characters are in Chinese and they account for about 20% of the total dialogue. To pull in Chinese audiences, an all-star local cast is featured, including pop idols Wang Junkai — in his acting debut — and Lu Han, as well as Hong Kong superstar Andy Lau in his second collaboration with Zhang after House Of Flying Daggers. Zhang Hanyu, Lin Gengxin and Eddie Peng also co-star.
The Great Wall shot for four-and-a-half months across China. Zhang considers this to be a relatively fast shoot given the language barriers (he took five-and-a-half months to shoot the martial-arts film Hero).
Production took place entirely in China, with the main Great Wall sets built near Qingdao on a plot of land planned as a major film studio by the Wanda Group. The interior scenes were filmed at China Film Group studios in Beijing. Outdoor locations include Dunhuang and Danxia Geological Park, both in Gansu province.
New resolution
The Great Wall is the first film to shoot in 6K, using Arri's Alexa 65 camera. Although most cinemas around the world are only capable of projecting up to 4K, the new level of 6K offers a great deal of flexibility during editing and post-production, says Zhang. "The shots can be reframed and repositioned easily. I can zoom in and out without losing resolution," he explains.
Expectations for The Great Wall are in a different league to Zhang's critically acclaimed films such as Raise The Red Lantern and The Story Of Qiu Ju. Strong reviews and festival awards alone are not enough; the film's success will be measured by its global box office.
"Some people may look down on this kind of project, but it has far-reaching significance. I hope it will be the first such co-production to achieve worldwide success. That's my ambition," he says, adding that he will be most pleased if the audience will define it as not only a Hollywood film, but also a Zhang Yimou film.
The Great Wall opens in China on December 16, followed by the US on February 17. The China release is handled by China Film, along with Le Vision Pictures, Legendary East and Wuzhou Distribution. Outside of China, international distribution is through Universal Pictures.
"Hollywood and China have been running their own film industries separately for decades," says Zhang. "Each has its strengths and weaknesses. I won't always insist on my ways of doing things and they will try to accommodate me. We learn to adapt to each other."