Dir: Bille August. Germany-Switzerland-Portugal. 2013. 110mins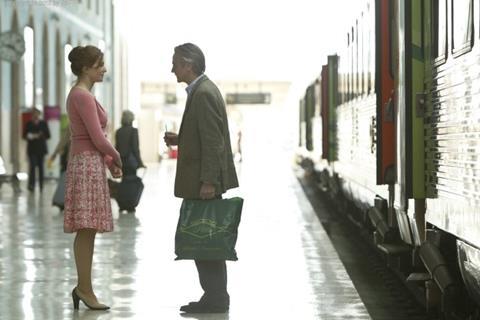 Ambling pleasantly enough through the story and pop-philosophy bon mots of Pascal Mercier's best-selling philosophical novel, Bille August's latest literary adaptation is rather like its central Jeremy Irons character: a well-meaning but inescapably dull looker-on of life who is curious about drama, passion, poetry and revolution, but also likes to keep such potentially messy things at arm's length. For in the end, Night Train To Lisbon, with its embedded story of a love triangle between resistance fighters in the final years of Salazar's Portuguese dictatorship, is not so much a cultural thriller as a history-larded version of Under The Tuscan Sun escapism.
The script is hobbled by its need to extract the drama from a book that was always at least as much about Amadeu's thoughts as it was about his life.
With its solid pan-European cast doing their level best, big orchestral soundtrack and prestige arc-lit widescreen cinematography, it's not a bad package. It just feels like it might have been made 30 years ago: this is a film where even the present-day scenes have a period feel. Maybe this retro touch is deliberate – but the effect will be to confine Night Train to older, infrequent-cinemagoer audiences who like their saudade sanitised and shrink-wrapped.
This is also a film where everybody in the two Euro-locations of Bern and Lisbon speaks English to each other, for no apparent reason: the result, much of the time, is stilted dialogue that may well play better when dubbed or subtitled – for example in German-speaking territories, where Mercier's novel was a literary cause célèbre.
Irons plays Raimund Gregorius, a genteel, old-world classics teacher in a Bern high school, who makes a decision that will, of course, change his life for ever. It all begins when he saves a mysterious young woman from jumping off a bridge. She disappears leaving behind only a coat, in the pocket of which Gregorius finds a book of aphorisms and autobiographical snippets by a Portuguese doctor called Amadeu de Prado. There is also a ticket for the night train to Lisbon. Standing on the station platform on the trail of the beautiful stranger, who is nowhere to be seen, the tweedy professor decides, on a crazy impulse, to board the train himself.
Cue tourist-board placing shots of Lisbon, complete with trams climbing picturesque cobbled lanes. Checking into a cheap hotel with a cheery proprietor, Gregorius – who of course speaks Portuguese among his other languages, though it all comes out in English – sets out on the trail of Amadeu, whose rather banal, intellectual-fortune-cookie reflections on life (which are sprinkled throughout, both in the dialogue and via Irons' voiceover) inspire him with the desire to find the man behind the words. The trail leads him to various people connected with the past of a man who, it turns out, died on the day that Salazar was deposed in 1974, beginning with the haughty Adriana (Rampling), Amadeu's sister, who still lives with her maid in the de Prado family's old-fashioned townhouse.
A script-fuelled mishap sends Raimund the way of sexy-older-woman optician Mariana (Gedeck), whose elderly uncle Joao (Courtenay) was, by sheer coincidence, in the resistance with Amadeu. So too was Amadeu's former best friend Jorge (Ganz), today a grumpy pharmacist with a drinking habit.
Gradually, a series of flashbacks are interleaved with the present-day story to reveal what happened back then, when magistrate's son Amadeu (played in his younger incarnation by Huston) and grocer's son Joao (Diehl) were best friends, united by their hatred of oppression but soon to be divided by their rivalry in love over passionate revolutionaire Estefania (Laurent). And just as we are starting to ask 'So where's Christopher Lee in all this?', he gets wheeled on as an elderly priest from the Catholic school where Amedeu and Joao boarded.
This backstory section moves along vigorously enough, and there's no faulting the acting here, which mostly overcomes the curse of the Europudding that is sometimes felt in the Raimund plot. But the script is hobbled by its need to extract the drama from a book that was always at least as much about Amadeu's thoughts as it was about his life. It mattered less, in the book, that the backstory had such an anticlimactic ending; in the film, we feel the fizzle.
But in the end it's the randomness of Raimund that is the film's main fault. What's the connection, we ask ourselves, as he and Mariana circle each other romantically in the present-day strand – why is this bookish old prof so interested in Amadeu? 'No particular reason', turns out to be the answer – like the film, he's simply a cultural, emotional and historical tourist.
Production companies: K5 Film, Palmstar Media Capital
International sales: K5 Media Group, www.k5mediagroup.com
Producers: Peter Reichenbach, Günther Russ, Kerstin Ramcke
Executive producers: Oliver Simon, Daniel Baur, Eric Fischer, Kevin Frakes
Screenplay: Greg Latter and Ulrich Herrmann, based on the book by Pascal Mercier
Cinematography: Filip Zumbrunn
Editor: Hansjorg Weissbrich
Production designer: Augusto Mayer
Music: Annette Focks
Website: www.nighttrain-film.com
Main cast: Jeremy Irons, Mélanie Laurent, Jack Huston, Martina Gedeck, Christopher Lee, Charlotte Rampling, Tom Courtenay, August Diehl, Bruno Ganz, Lena Olin