Dir: Sam Miller. US. 2014. 84mins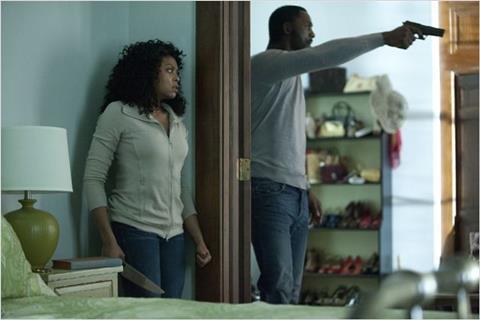 A home invasion thriller of wan, telegraphed moves and shallow psychological hold and insights, No Good Deed proves undone by a screenplay that is demonstrative even by genre standards, effectively wasting the talents of its two leads, Taraji P. Henson and Idris Elba.
Elba has an innate charisma that can be heady to simply bask in, but here he's merely given the mandate to shift and forth through fifty shades of glowering.
Shot over two years ago, No Good Deed had its advance screenings for critics cancelled with late notice — perhaps in an effort to avoid rather drab word-of-mouth, but also specifically avoid any connection to domestic abuse, which is much in the headlines Stateside because of the fallout of video footage of an American football player punching his wife being leaked. It's a gambit that doesn't seem to have much hurt the film, with the thriller, facing listless theatrical competition, on pace to likely top $20 million for its opening weekend.
No Good Deed opens with Colin Evans (Elba), a narcissistic man suspected of being a serial killer but actually imprisoned on a lesser manslaughter charge, pleading his case at a parole hearing. His release is denied, but Colin escapes from his tenders, and then pays a brutal visit to his ex-girlfriend (Kate del Castillo).
More violence ensues and then, when Colin in injured after a car incident, Terri (Henson), a former prosecutor and harried stay-at-home mother of two, invites him into her house to use the phone. A bit of flirtation and eyeballing follows, and the arrival of Terri's neighbor Meg (Leslie Bibb) only adds to the uncomfortableness. In short order, though, Colin's contempt for women again rises to the surface in contemptible action.
Reminiscent of past revenge thrillers of female empowerment like Julia Roberts' Sleeping With the Enemy and Jennifer Lopez's Enough, No Good Deed seems like a bottom-of-the-drawer spec script hastily streamlined and remade in an effort to capitalise on the surging appeal of Elba and the Oscar-nominated Henson. Aimee Lagos' script has a compelling and sympathetic audience surrogate in the character of Terri, but it front-loads an absurd amount of exposition in order to establish Colin's malignant narcissism, which robs the movie of any tension regarding his true nature.
The movie additionally relies on aural goosing for desultory jump-scares. Most problematic of all, however, is the fact that its villain is so one-dimensional; the film fails to dig down into the psychology of the fact that Colin is attracted to Terri because of her vulnerability and loneliness. The chance exists to craft a smarter, more unnerving thriller that explores the specially attuned predatory instincts of serial abusers, but No Good Deed is stripped free of nuance. Instead of actually trying to make relevant the details with which it shades its characters, it's more interested in attempting to wring rooting interest and reactions from Terri getting the jump on Colin, which happens with an increasing tendency that belies the previous brutality viewers have witnessed. When the film's obligatory air-quote twist arrives, it does so with a light thud, lacking any real imaginative punch.
Miller and cinematographer Michael Barrett lean heavily on shadows for much manufactured visual tension, and the entire dark-and-stormy-night setting seems contrived. Miller also uses flashbacks awkwardly and to no good end, to sometimes show material that the audience has already seen.
Henson imbues Terri with an engaging vulnerability and underlying steeliness; she's this movie's anchor. Elba has an innate charisma that can be heady to simply bask in, but here he's merely given the mandate to shift and forth through fifty shades of glowering.
Production companies: Screen Gems, Will Packer Productions
US distribution: Sony Studios
Producers: Will Packer, Lee Clay
Executive producers: Idris Elba, Glenn S. Gainor, Ellen Goldsmith-Vein, Rob Hardy, Taraji P. Henson, Aimee Lagos, Lindsay Williams
Screenplay: Aimee Lagos
Cinematography: Michael Barrett
Editors: Jim Page, Randy Bricker
Production designer: Chris Cornwell
Music: Paul Haslinger
Website: http://www.NoGoodDeedMovie.Tumblr.com/
Main cast: Idris Elba, Taraji P. Henson, Leslie Bibb, Kate del Castillo, Henry Simmons, Frank Brennan, Kenny Alfonso, Mirage Moonschein, Wilbur Fitzgerald, Kelly O'Neal