Dir: Pablo Larrain. Chile-USA. 2011. 116mins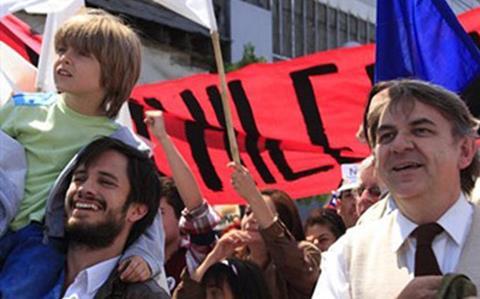 Talk about shooting oneself in the foot. The third part of Chilean director Pablo Larrain's trilogy set against the background of the Pinochet regime had the potential, on paper, to be the most commercially viable of the lot: a dream pitch, it stars Gael Garcia Bernal as a keen young Chilean ad man who is asked to come up with a campaign for the (ultimately successful) anti-Pinochet 'no' vote in the 1988 national plebiscite, which ended 16 years of military dictatorship.
Though there are some decent ironic moments and the late 1980s ambience is competently brought back to life in costumes and production design.
But Larrain's bizarre decision to make his film blend in with its extensive passages of archive footage by shooting in U-matic – the default TV production format of the 1980s – makes for an uncomfortable cinematic viewing experience, and will seriously compromise the film's sales prospects. We've moved on from those noisy reds, bleeding whites and colour halos, and Larrain's misguided homage reminds us of just how ugly they were.
Well received at its Quinzaine debut, No nevertheless has identity problems that compound its visual misfire. It's clear that the director of the dark and thematically layered Post Mortem wasn't interested in making a rousing Hollywood movie about the victory of civil society against an evil dictator. Neither is he quite comfortable with playing No as a comedy about Chile's old-fashioned 'no pasaran!' leftists learning to embrace the language and methods of soft drink and microwave ads – though there is some of this. But No never really carves out a third way, or establishes a strong theme, outside of the timid suggestion that for many Chileans, little changed after the dictator's exit.
For all these reasons, this is going to be a challenging film to move and market. Distributors who do take the bait will no doubt foreground the look of the film in their marketing materials rather than trying to paper it over. A forewarned audience may react better to the ploy. At least they won't wonder if the projectionist is off on his coffee break.
Gael is solid as René Saavedra, a young and upwardly mobile adman who is introduced pitching a TV cola ad to prospective clients. He lives alone with his young son, whose mother Veronica (Zegers) – now in another relationship – is a left-wing activist. She's scornful when René is engaged to help the campaign for a No vote in a plebiscite against an eight-year extension of Pinochet's regime – a plebiscite which international pressure has forced the aging dictator into holding. The 'No' camp has been guaranteed just 15 minutes of late-night TV airtime to put their case; the regime gets all the rest,
René forces his political clients to ditch downbeat massages about torture and desparecidos in favour of a happy-happy campaign with a rainbow symbol. When initial results are promising, the regime begins to use strongarm tactics, tailing and threatening the 'No' campaign team. Meanwhile, René's old-school boss Lucho (Castro), who is on Pinochet's advisory board, is called on to turn around the floundering Yes! campaign. He's never quite the convincing antagonist (would René really continue to work with a man who drops dark hints about the safety of his son?) – but then again, neither is the hastily sketched-in Veronica or a militant cameraman-director (Tagle) who insists on slipping those downbeat notes into the nightly campaign broadcasts.
Though there are some decent ironic moments and the late 1980s ambience is competently brought back to life in costumes and production design, the dramatic tension of the march towards the crucial vote keeps slipping as the film gets bogged down in detail. It seems strange to say this to a director who has become a stalwart of the Latin American arthouse scene – but this is one film where Larrain and his scriptwriter might have benefitted from making this a tighter US-style commercial product. It's clear that, deep down, this is what it would like to be.
Production companies: Participant Media in association with Funny Balloons and Fabula
International sales: Funny Balloons, www.funny-balloons.com
Producers: Juan de Dios Larrain, Daniel Marc Dreifuss
Executive producers: Jonathan King, Jeff Skoll
Screenplay: Pedro Peirano, based on the play Referendum by Antonio Skarmeta
Cinematography: Sergio Armstrong Gonzale
Editor: Andrea Chignoli
Production designer: Estefania Larrian de la Cerda
Music: Carlos Cabezas
Main cast: Gael Garcia Bernal, Alfredo Castro, Luis Gnecco, Antonia Zegers, Marcia Tagle, Nestor Cantillana, Jaime Vadell, Pascal Montero