Dir: Isabel Coixet. Spain-France-Bulgaria. 2015. 118mins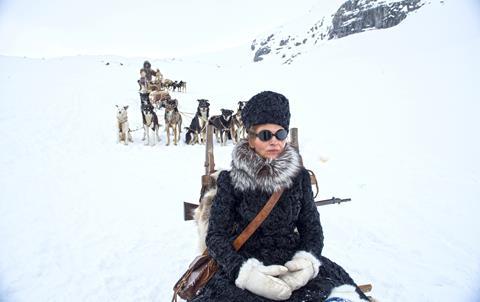 Isabel Coixet's handsomely mounted period drama veers between epic Arctic vistas and intimate igloo intensity, and while blessed with an impressive double act in the form of Juliette Binoche and Rinko Kikuchi it never quite settles on enough intensity to carry its almost two hour running time. Nobody Wants The Night (Nadie quiere la noche), which opened the Berlin International Film Festival has appropriate style and panache, but this frosty film lacks a much-needed dash of dramatic fire.
The epic nature of the first part of the film contrasts effectively with the second part, which is set largely in the rickety frozen shack and the claustrophobic igloo.
The presence of Binoche and Kikuchi gives this English-language film the right acting credentials to appeal to distributors, and certainly some of the visuals are quite stunning. But the backdrop of dangerous North Pole exploration at the turn of the 20th century flatters what is at heart a rather intimate story of discovery, love and survival between two very different women.
There is a sense of epic narrative to the background story of real-life American explorer Robert Peary (never seen in the film, but who plays a central role) and his ambitions to be then first man to reach the North Pole. Juliette Binoche plays his high society loyal wife Josephine, who supports and encourages his grand ambitions, despite the fact that it has meant that they have spent years apart. In 1908 she decides that she want to join him as he comes closer to achieves his dream, and arrives in the North perilously close to the dangerous onset of winter.
The film opens with Josephine gleefully shooting her first polar bear ("a big male" she calls out happily…"average" comments her Inuit guide). She wants to travel deeper North to try and meet up with her husband despite the advice of grizzled explorers, and manages to convince the longhaired and experienced explorer Bram (Gabriel Byrne) to lead a small expedition of three sleds and dog teams to take her. Bram – sporting an Inuit-style nose tattoo and a relish for clean remoteness of the frozen north – reluctantly helps her, despite knowing the terrible risks involved.
After incident and drama she eventually reaches a base camp hoping to find her husband (of Lieutenant Peary as always refers to him), only to discover he has pushed onwards. With winter drawing in (and the onset of almost permanent night due) she finds herself alone in a shack, accompanied only by Inuit woman Allaka (Kikuchi), who lives in an igloo she has built nearby. Josephine relishes her time alone and is irritated by the smiling Allaka, but in time the two women come to have a grudging companionship, with Allaka saving her when Josephine when she collapses in the snow, and the 'civilised' woman showing Allaka how to use a knife-and-fork as she stages a formal dinner.
Thing come to a head when it turns out that Allaka is there to also wait for Peary, and Josephine is even more shocked to find out that Allaka is expecting his baby. An expected bout of anger ensues – it is all rather predictable to be honest – but the two women are forced to bond as bleak and bitter winter descends and the child's arrival draws closer. In a visually clumsy moment Josephine has to break open the roof of the igloo to escape as a filmic metaphor for the baby being born. More amusingly Allaka comments beforehand:" The small person wants to come out!".
The epic nature of the first part of the film contrasts effectively with the second part, which is set largely in the rickety frozen shack and the claustrophobic igloo. It is here, with the frostiness of Josephine's reaction to Allaka juxtaposing with the warm-hearted nature of the Inuit woman, that the film finds it dramatic heart. In rather languid style Coixet draws out the slow-burn friendship between the two women, bonded together in the love for the same man and in their very physical need to battle the elements. Binoche is effective as the haughty women who is single-minded in her determination to get to her husband, and certainly looks the part in Clara Bilbao's impressive costumes, and is nicely complemented by Rinko Kikuchi's warm and measured performance as the generous-spirited Inuit woman.
Production companies: Ariane & Garoe, Mediapro, Neo Art Producciones, Nadie Quiere La Noche AIE, Noodles Production, One More Movie
International sales: Elle Driver, sales@elledriver.eu
Producers: Andres Santana, Jaume Roures
Co-producers: Antonia Nava, Jerome Vidal, Ariel Ilieff, Dimitar Gochev
Executive producer: Javier Mendez
Screenplay: Miguel Barros
Cinematography: Jean Claude Larrieu
Editor: Elena Ruiz
Production designer: Alain Bainee
Music: Lucas Vidal
Main cast: Juliette Binoche, Rinko Kikuchi, Gabriel Byrne, Orto Ignatiussen, Matt Salinger, Ben Temple, Reed Brody, Alberto Jo Lee, Clarence Smith, Velizar Vinev, Ciro Miro