Dir: John McKay. UK. 2013. 98mins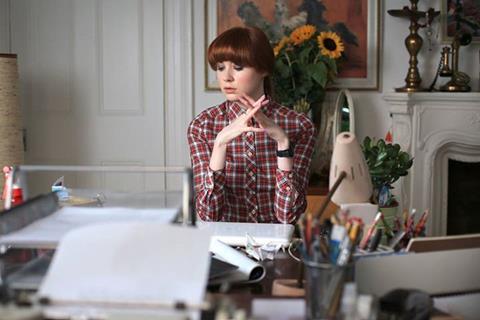 Karen Gillan displays her burgeoning star potential to good effect in Glasgow-set rom-com Not Another Happy Ending, a film that gets by on her quirky charm rather than its rather familiar structure and lack of real chemistry between the two leads. It is a jolly and colourful enough film that is engagingly watchable, and given there is always a pretty strong market for rom-com fare should be a good enough seller.
Karen Gillan's performance is what keeps the film watchable.
The closing night film of the Edinburgh International Film Festival, the film is very much carried by Gillan – she was a popular long-running star in recent series of British TV hit Doctor Who, from 2008-2012; played model Jean Shrimpton in TV film We'll Take Manhattan and has a role in upcoming superhero film Guardians Of The Galaxy – who is asked to play an Annie Hall-ish writer suffering from writer's block.
With her long red hair, engaging personality and willingness to play up the comedy alongside the romantic elements of the film, Gillan has the qualities to break out, and while Not Another Happy Ending is a nice stepping-stone, it won't be the film that delivers high profile appreciation.
Gillan plays Jane Lockhart, a young Glasgow writer whose first novel turns out to be a massive success, in part thanks to the editing of her supportive but pragmatic publisher Tom Duval (French actor Stanley Weber, from Borgia, who tries a bit too hard to be hunky'n'quirky). The book enables her to reconcile with her estranged father (Gary Lewis) - in part her book is about him - and she starts a relationship with self-obsessed writer Willie (Henry Ian Cusick).
When Tom comes to believe she is struggling from writer's block because she is too content, he sets about trying to make her life unhappy so she will be driven to finish the novel he badly needs to keep his company afloat. In the meantime a rather confused Jane begins a conversation with her imaginary heroine of the book Darsie (Amy Manson), whose glamorous looks and brittle advice tend to interrupt Jane's life.
Karen Gillan's performance is what keeps the film watchable, and helps paper over the rather jumbled and at times overly clichéd script. Her relationship with Tom never really rings true – perhaps due to a lack of chemistry between to two leads and some dialogue issues – while the film also gets sidetracked by the sub-plots of her talking to her imaginary muse and the up-and-down relationship she establishes with her father.
The Glasgow backdrop works extremely well, presenting the city as a hive of cool creative and romantic locations, while John McKay keeps the film nice and breezy and, having directed Gillan in We'll Take Manhattan, seems to be able to bring out the best in his up-and-coming lead actress.
Production companies: Synchronicity Films, British Film Company
International sales: LevelK, www.levelk.dk
Producer: Claire Mundell
Screenplay: David Solomons
Cinematography: George Cameron Geddes
Editor: Calum Ross
Production designer: Andy Harris
Music: Lorne Balfe
Website: www.notanotherhappyending.com
Main cast: Karen Gillen, Stanley Weber, Amy Manson, Iain de Casestecker, Kate Dickie, Freya Mavor, Gary Lewis, Henry Ian Cusick