Universal's sci-fi scores $7.6m (£4.95m) debut, including previews, to knock The Croods off the top spot.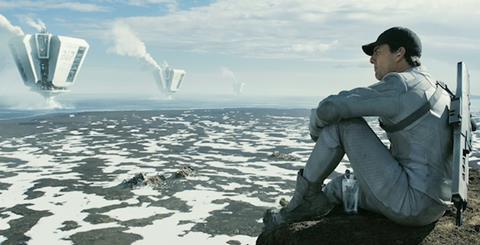 Achieving the second-best result of its international bow, Oblivion landed top of the UK box office preventing The Croods from a fourth straight week at the summit.
Universal's sci-fi scored a strong $7.6m (£4.95m) debut, including $2.4m (£1.6m) in previews, from its 520 sites, resulting in Tom Cruise's fourth-best UK opening behind only Mission: Impossible III ($8.2m/£5.4m), Mission: Impossible - Ghost Protocol ($12.5m/£8.2m) and War of the Worlds ($13.2m/£8.6m).
It's worth noting that even without the preview boost, Oblivion would still have topped the chart.
Cruise's previous forays into the sci-fi genre have resulted in his best-ever UK results. War of the Worlds leads the way with $47m (£30.6m), followed by Minority Report with $31.7m (£20.7m). Oblivion's debut is ahead of the latter's $6.9m (£4.5m) bow, albeit from less sites (426).
As for director Joseph Kosinski, Oblivion's debut is well ahead of Tron: Legacy's $3m (£2m) and Oblivion will soon overtake that film's final UK tally of $16m (£10.4m).
Despite falling to second, The Croods still enjoyed an excellent weekend, adding a further $3.1m (£2m).
Fox's 3D animation is now up to $34.9m (£22.7m), surpassing the likes of Madagascar and Kung Fu Panda in terms of DreamWorks Animation original features and The Croods will overtake Shark Tale ($35.4m/£23.1m) this week.
Also for Fox, Trance is up to $6.3m (£4.1m) following a $521,000 (£339,480) weekend.
The Weinstein Company confirmed a $1.7m (£1.1m) opening for horror spoof Scary Movie 5, released in the UK through Entertainment, seeing it chart third.
While that result is the lowest of the series, previous low was Scary Movie 2's $2.4m (£1.6m), it's still a solid debut given the last instalment of the series was released seven years ago.
The performance of the similarly-themed A Haunted House next month, released through Vertigo, will outline whether Scary Movie 5's performance was predominantly down to brand affection.
StudioCanal's The Place Beyond the Pines scored an excellent $1m (£671,478) debut, including $16,832 (£10,990) from previews, from its 114 sites for a stunning $9,021 (£5,890) average, the second-highest of the top 15 behind Oblivion. That result has already topped director Derek Cianfrance and Ryan Gosling's previous collaboration, Blue Valentine.
As a result of its opening, StudioCanal will expand the crime drama from this Friday [April 19].
G.I. Joe: Retaliation has now overtaken its predecessor G.I. Joe: The Rise of Cobra's final UK tally, after adding $803,000 (£524,147) to climb to $10.6m (£6.9m) through Paramount.
Warner Bros' Jack the Giant Slayer crossed £7m in its fourth weekend, thanks to a $691,000 (£451,204) weekend. Bryan Singer's 3D fantasy is now at $10.8m (£7.1m).
For Disney, Oz the Great and Powerful added $600,000 (£392,063) and stands at $22.5m (£14.7m) as of Monday [April 15], while The Odd Life of Timothy Green is up to $1.3m (£826,730) after ten days in play.
Wreck-It Ralph is now the highest grossing Walt Disney Feature Animation at $35.7m (£23.3m) having overtaken The Lion King, discounting its 3D re-release.
Dropping six places to ninth was Momentum's Dark Skies as it scared up $473,000 (£308,456) for $2.9m (£1.9m) to date.
Vertigo's Spring Breakers is up to $1.1m (£722,615) following a $188,000 (£122,667) second weekend.
This week sees saturation releases for StudioCanal's Evil Dead (opens April 18) and Lionsgate's Olympus Has Fallen (opens April 17). Arrow's Love Is All You Need receives a wide release as does Universal's Promised Land, while StudioCanal's Bait 3D and Dogwoof's Fuck For Forest are among the films receiving a limited release.
For more of Screen's box office news, analysis and charts, visit our Box Office section by clicking the icon below.