Dir: JK Youn. South Korea. 2014. 126mins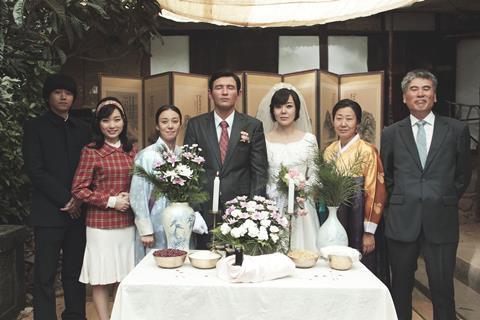 The latest blockbuster to come out of South Korea feels a little forced at times, but despite its expansive scope spanning over sixty years of tumultuous history, fortunately, it does not buckle under the weight of its own ambitions. Rather, director JK Youn (Haeundae) does what he does best and delivers a compelling and moving feature that explores the separation of families following the Korean War.
While Youn may not produce some of Korea's best cinema due to his commercially driven projects, he does know how to produce large-scale films.
Locally the film trumped The Hobbit: The Battle Of The Five Armies to top the box office selling over 1.1 million tickets ($8.2 million) on its opening weekend (December 19-21). Going forward, while it will face further competition during the Christmas and New Year season in the form of other Korean releases such as Lee Won-suk's period film The Royal Tailor, potential strong word-of-mouth could result in a significant final tally, but this will also depend on whether it can also attract the younger demographic.
The film's primary target is the Korean audience, especially those of the older generations, and so it's somewhat localized to an extent, but Youn's uncomplicated and accessible approach along with the film's strong visuals that spans three different countries (it's set in Korea, Germany and Vietnam) could also make it an appealing prospect overseas as evident with its invitation to the Berlin Film Festival in February where it screens in the Panorama Section.
The film begins in the present day where we are introduced to the leads: an elderly man called Duk-soo (Hwang Jung-min) along with his wife Young-ja (Kim Yunjin) and close friend Dal-goo (Oh Dal-su) who reside in the coastal city of Busan where Duk-soo's family run a small store at the international market.
The film soon flashes back to 1950 when Duk-soo – then a young boy – loses grip of his younger sister as he tries to board SS Meredith Victory, an American cargo Freighter that evacuated 14,000 refugees in Hungnam, North Korea in 1950 during the Korean War. His father turns back and searches for his daughter, but as the ship heads to Busan, Duk-soo is effectively left to take the father role and support his mother and two younger siblings.
The film then chronicles Duk-soo's life as he moves to Germany to work in the mines where he meets his wife who is working as a nurse, then returns to Korea before heading to Vietnam in the 1970s to take on more hazardous work as he makes a number of sacrifices for his family.
Duk-soo never gives up on finding his sister, and father, however, as the film takes an emotional turn when a local broadcaster assists families, including Duk-soo, in locating loved-ones in the early 1980s.
Filming such a narrative is an audacious undertaking, but Youn's team that includes cinematographer Choi Young-hwan (The Berlin File, The Thieves) and the talented production designer Ryu Seong-hie (Mother, Oldboy, A Bittersweet Life) are up to the task demonstrating yet again what Korean crews are capable of doing.
Shot in the Czech Republic, Thailand and Busan, each scene has been carefully crafted to depict a particular place in a specific era with little indication of any difficulties in the process of doing so though the limitations of CGI does become apparent at times.
Korean melodramas are synonymous for their sentimentality so it's unsurprising that the film suffers slightly from an attempt to drive emotion especially given the theme, but fortunately, the film's strong craftsmanship and the more witty areas of the script compensates for the film's more tearful moments.
Hwang Jung-min (New World, The Unjust), one of Korea's busiest and most versatile actors pulls off another captivating performance playing a character in his twenties through to his elderly years, and Kim Yunjin (Shiri, Lost TV series) does much the same. Oh Dal-su (The Attorney) meanwhile gives the film that much needed humorous touch.
While Youn may not produce some of Korea's best cinema due to his commercially driven projects, he does know how to produce large-scale films even if they lack the depth many of his contemporaries are able to deliver.
Production company: JK Film & CJ Entertainment
International sales: CJ Entertainment, http://en.cjenm.com
Producers: JK Youn, Sangzik Lee
Co-Producers: Jisung Park, Changhyun Lee, Yangyoun Kim
Executive producers: Tae-sung Jeong, Michelle Kwon
Screenplay: Park Soo-jin, JK Youn
Cinematography: Choi Young-hwan. Kim Hyung-seok
Editor: Lee Jin
Production designer: Ryu Seong-hie
Music: Lee Byeong-woo
Website: http://www.kukje2014.co.kr/
Main cast: Hwang Jung-min, Kim Yunjin, Oh Dal-su, Jung Jin-young, Jang Young-nam, Ra Mi-ran