Dir/scr: Benedikt Erlingsson. Iceland-Germany. 2013. 81mins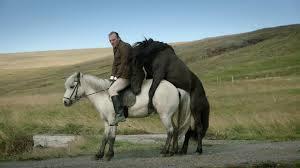 A remarkable big screen debut, the absorbing and intriguing Icelandic film Of Horses and Men (Hross i oss), which has been selected as Iceland's nomination for the Foreign Language Oscar, has all of the credentials to work as an off-beat art house success for distributors willing to take a risk.
Of Horses And Men is a striking debut, and one to be applauded.
A success at a series of film festivals – and set to screen in the US at the Palm Springs Film Festival in January – its racy tale hits the sweet spot in terms of offering an adult and at times even exotic art drama.
Award-winning stage-director turned writer/director Benedikt Erlingsson is clearly a talent to watch, and if the film can be a bit scattershot at times, it still remains a bold and exciting debut.
Erlingsson makes wonderful use of the striking landscape as he weaves together a series of interlinking stories which veers from darkly amusing tales of death and sex through to more disturbing fare. Yes horses may be at the core of the film – and equine fans will love the images of the animals set against the volcanic Icelandic landscape – but hardship and tragedy often looms and at times viewing can be a little hard.
Each of the stories dwells upon a different horse, with Erlingsson paying cinematic tribute to the animal's grace and elegance. The first story follows Kolbeinn (Invgcar E Sigurdsson), a wealthy man riding a newly tamed more who visits neighbour Solveig (Charlotte Bøving). She is taken with her guest…but then her stallion is equally enamoured with his horse, and when he leaves her horse breaks free and soon mounts his mount with Kolbeinn still sat on top.
Other sections include a Spanish tourist caught in his snowstorm with his horse who is forced to take terrible steps to survive (think The Empire Strikes Back and you'll understand) and a local drunk who rides his horse out to a Russian ship planning to buy cheap vodka. The tentative romance between Kolbeinn and Solveig is the only vague strand that loosely runs through the film, though Iceland's landscape and weather could also be argued a being a vital sub strand of the film.
Apparently Icelandic law forbids the import of foreign horses, meaning that these smaller, strong, horses have been integral to Icelandic history since the first settlers. That bond between man and horse is at the core of the film which seeks to pay tribute to the country's history and culture through the series of strange and unusual fables.
Produced by Fridrik Thor Fridriksson (the local director/writer/producer who is also behind six Icelandic Oscar submissions) the film is beautifully shot and staged, with cinematographer Bergsteinn Bjorgulfsson making the most of the striking backdrops, complemented by David Thor Jonsson score, which accentuates history through its primal drumming and heady choral works. Of Horses And Men is a striking debut, and one to be applauded.
Production companies: Leiknar Myndir, Mogador
International sales: Icelandic Film Centre, www.icelandicfilmcentre.is
Producer: Fridrik Thor Fridriksson

Cinematography: Bergsteinn Bjorgulfsson

Editor: David Alexander Corno

Production designer: Sigurdur Oli Palmason

Music: David Thor Johnsson

Main
cast: Ingvar E Sigurdsson, Charlotte Bøving, Sigridur Maria Egilsdottir, Juan Camillo Roman Estrada, Steinn Armann Magnusson, Helgi Bjornsson