Dir: Brian A Miller. US. 2012. 92mins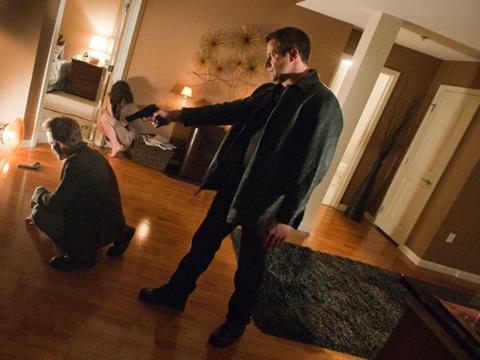 A crunching and contrived cop thriller – apparently based on a true story – Officer Down is solidly made though never feels original or terribly exciting. Stephen Dorff makes for a suitably stubbly lead, playing a former drunk cop who is trying to keep on the straight-and-narrow but who finds himself drawn into a complex murder inquiry when his past indiscretions start coming to light.
Stephen Dorff looks part as the rumpled and unshaven cop.
The film, which had its world premiere at the Dubai International Film Festival, heads straight to home entertainment in the US in early January. But its strong and familiar supporting cast – James Woods, Dominic Purcell, David Boreanaz, Stephen Lang, Walton Goggins etc – may help make the film interesting to fans of US television crime series, and should ensure a strong life on DVD, which seems the film's most likely course in most other territories.
The film opens impressively with Bridgeport detective David 'Cal' Callahan (Dorff) in the hands of a rapist who has attacked a series of women. Cal manages to fight his way out of the situation and shoot the man, but this simply acts as a entrance point into his troubled relationship with the rest of his department – his direct boss Jake LaRussa (Lang) supports him but his Captain (Woods) has no time for him – and how he is trying to pull his life together after a period on the booze and drugs.
When he is approached by a man who claims he saved Cal's life after a shooting some months earlier, he finds himself drawn into a complex murder inquiry linked to the strip club he used to hang out at run by mobster Royce Walker (Purcell) and inquiries about a man nicknamed 'The Angel' (Goggins) who may be preying on the dancers.
As Cal dips back into the sauce, his desire to protect the young women (linked to his need to protect his own teenage daughter, played by Beatrice Miller) comes to the fore, and as he is manipulated into taking violent action he gradually comes to realise the truth of who is behind the killings and is determined to take brutal action himself.
As usual, Stephen Dorff looks that part as the rumpled and unshaven cop (he has the looks, the pecs and the moves to be the action star, but the role is a humourless one and offers little in the way of warmth or charisma), though it is Walton Goggins (so good in TV's Justified and with strong roles in Django Unchained and Lincoln) who makes the most impact in his limited, though nicely complex, role.
The likes of Stephen Lang, David Boreanaz, James Woods, Tommy Flanagan and Dominic Purcell all have limited and clichéd roles, and while they all nail them as far as the script is concerned, contributions are all strictly limited. David Boreanaz, who has such a strong fan base with TV's Bones, is given the silly and obvious 'angry cop' role which is a loss given his natural charisma. Trivia fans will note that Cal's wife is played by Elisabeth Röhm, who played opposite Boreanaz in 15 episodes of hit series Angel, though they have no scenes together in Officer Down.
Production companies: Jeff Most Productions
International sales: Red Sea Media, www.redseamedia.com
Producers: Jeff Bozz, Jeff Most, Jeff Rice, Mohammad Zahoor
Executive producers: Jenae Altschwager, Rick St George
Screenplay: John Chase
Cinematography: Ryan Samul
Editors: Bib Mori, Danny Saphire
Production designer: Russell M Jaeger
Music: Jerome Dillon
Main cast: Stephen Dorff, Dominic Purcell, James Woods, AnnaLynne McCord, David Boreanaz, Stephen Lang, Walton Goggins, Tommy Flanagan, Beatrice Miller, Elisabeth Röhm, Oleg Taktarov