Dirs/scrs: Sebastian Silva, Pedro Peirano. Chile. 2010. 88mins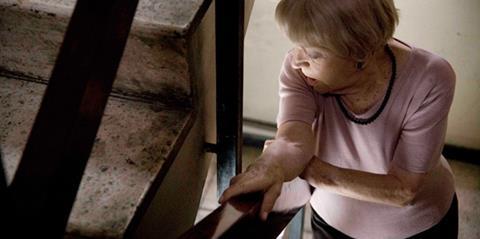 Having just had its world premiere at the New York Film Festival, Chilean drama Old Cats should have a solid festival life and a moderately lucrative release in its native country. Distribution further afield, especially in non-Spanish-speaking territories, will be more difficult, although word of the lead performances could generate positive word-of-mouth that translates into ticket sales. Even with international accolades, co-director Sebastian Silva's last film The Maid grossed slightly more than $1 million worldwide.
A memorable interpretation by Chilean actress Belgica Castro.
The New York Film Festival has labelled Old Cats a farce, and the film's press material notes that it contains both black comedy and pathos. The humorous and the melancholic, however, do not fully gel and Old Cats provides little relief until it opens up in the last 15 minutes.
In recent years a sprinkling of films from all over has emerged about impending dementia in older women, among them Sarah Polley's Canadian feature Away From Her (2006) and, from Mexico, Maria Novaro's The Good Herbs (2010). In the former, Julie Christie's modulated performance as a deteriorating wife earned her a well-deserved Golden Globe and an Oscar nomination for Best Actress, while Ofelia Medina's portrayal of an afflicted mother in the latter was moving, if much less subtle.
On a par with Christie's memorable interpretation is Chilean actress Belgica Castro's Isadora, a tough, emotionally inexpressive octogenarian from a fading era who, in Old Cats, must renegotiate her relationship with her rebellious, self-centered lesbian daughter (Claudia Celedon) while on a downhill slide.
Do-directors Silva and Peirano keep the camera close to Castro, often on her heavily lined face, which shifts gears between extreme disorientation and cynical cognition with such effective nuance that both the role and the film become unforgettable. In fact, the husky-voiced actress delivers one of the finest performances of the year.
Castro and Sieveking (as Isadora's husband Enrique) perform naturalistically, his gallant stoicism beautifully balancing her increasing instability, and the sadness of Isadora's plight undermines the funny impact the other two characters, who border on caricature, are meant to have.
The generational antinomies become diluted between the elderly couple and hysterical Rosario, Isadora's daughter (Celedon, The Maid's the mother of the house), and her hypermasculine girlfriend, Hugo (Saveedra). Some of the bitchy sarcastic exchanges are amusing, but overall, the comedy falls rather flat. Their insistent cocaine snorting is more ridiculous than funny.
Enrique is aware of Isadora's declining state. In one strong sequence, she loses her grip on reality while he is off shopping and allows water in the sink to overflow as she wanders catatonically between rooms. When he returns and she snaps back into the real world, it is as if she has become conscious of her condition for the first time. To compound matters, pushy Rosario arrives that evening. As expected, she has financial motives: She wants her mother not only to sign over power of attorney for the apartment but also to invest in yet another business venture, an import-export company selling natural soaps from Peru.
After a nasty confrontation in which Rosario slaps her so hard on the terrace that it sends her into another stupor, Isadora slowly and painfully descends the stairs, only to become lost, in a childlike trance, among actors dressed as bees in the large, lush park across the street. Suffice it to say that the resolution takes place in water, a motif that spans the film from the early accident in the bathroom.
Peirano co-scripted Silva's first two features, Life Kills Me and The Maid. Here Silva's background as a visual artist is evident in the assured handheld visuals, but ironically, his experience as a musician is hardly apparent. There is no music track (not counting a video) save for the final credit sequence. Added to that single number are the meows of the two cats, the film's innocents and witnesses, stars that were already vocal in the very first scene.
Production company: Elephant Eye Films
International sales: Elephant Eye Films, www.elephanteyefilms.com
Producers: Kim Jose, David Robinson, Sebastian Silva
Executive producers: Luis Alejandro Silva, Corinne, Jefferson Offutt
Cinematography: Sergio Armstrong
Production designer: Valentina Silva
Editor: Gabriel Diaz
Music: Juan Andres Silva
Main cast: Alejandro Sieveking, Catalina Saveedra, Belgica Castro, Claudia Celedon