Dir: Emmanuelle Bercot. France. 2013. 116mins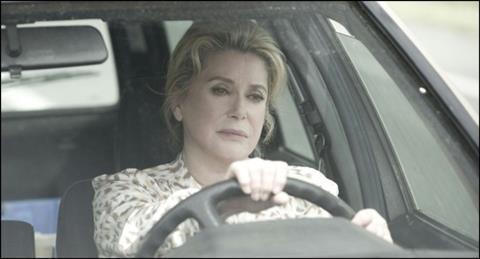 Probably not a festival item by definition, but a readymade crowd pleaser to delight French (and Francophile) audiences and eventually annoy some of its critics, this road movie about five lost days in the life of small town restaurant owner, unabashedly steps into every single cliché it can find on its way, jumps with both feet - like a delighted little child in a puddle of water - and yet manages to come out dry. Bercot's film should also please all the legions of Catherine Deneuve fans who will appreciate her stepping bravely into the third age, even satirising her past glamour, while holding her head high and never batting an eye.
Bettie's journey may be paved with predictable encounters that end exactly as expected, but at least they are all strung together with high spirits that never threaten to spoil the pleasant mood.
In On My Way (Elle s'en va), which was obviously conceived as a tribute to her, Deneuve plays Bettie, a woman in her sixties in charge of a family restaurant in a small Brittany town. A widow whose husband died many years ago suffocating on a chicken bone, she shares a flat with her mother (Claude Gensac) and through her, she finds out that her lover has just left her for a much younger woman.
Unhinged by the news, she gets into her car, tells everyone she'll be back in a jiffy and then goes AWOL for five days, at the end of which she is reunited with all the members of her family – that is her mother, her daughter (the singer Camille in her first film role) and her grandson, Charly (Nemo Schiffman, the director's son). They meet together smack in the heart of France, several hundred miles away from Bettie's home, in a lovely country house, equipped with the grandest kitchen, surrounded by a glorious garden, with chicken and rabbits in the yard, briefly, a pastoral heaven one would never wish to leave.
If this sounds exactly like the classic notion for a French film, there's no need to worry, Emmanuelle Bercot, an actress who has forged for herself a respectable reputation as a film director, couldn't have meant anything else. She concedes the film is replete with tributes not only to Truffaut, Techine and other directors Deneuve has acted for earlier in her career, but also to the great tradition of earlier French cinema before, all the way to Renoir and Sautet…not to mention that the film is dedicated to the memory of the late Claude Miller.
On the way, Deneuve - that is Bettie - manages to share a few magic moments with an old man rolling a cigarette for her; stumbles upon a dart competition; meets a bevy of single women and a countryside Don Juan who tries to sweep her off her feet, only to tactlessly tell her next morning she must have been a beauty once.
Later on she picks up 11 year-old Charly, the son of her daughter who detests her, and has to drive him all the way to his grandfather. With him in tow, she unwillingly finds herself joining a re-union of 1969 beauty queens (Bettie used to be Miss Brittany), a nostalgic sequence recalling Fellini's magic encounter of Mastroianni and Ekberg in Intervista, 27 years after they had splashed together in the Fontana di Trevi, for La Dolce Vita.
Without going into too much detail, after all a road movie lives or dies by the incidents strewn along it and by everything the lead character will learn about himself and the world in the process, suffice it to say that Bettie's journey may be paved with predictable encounters that end exactly as expected, but at least they are all strung together with high spirits that never threaten to spoil the pleasant mood.
And at all times, there is Deneuve forging ahead just as herself, and this turns out to be more than enough to keep the film going. Surrounded mostly by non-actors who seem completely unaffected by the movie icon next to them, accompanied by a soundtrack alluringly referring to the plot, whether it is through a song by Claude Nougaro or a Bach Prelude and Fugue, and with the consistently cheerful French countryside smiling all through, there is nothing here to mar Bercot's happy-go-lucky romp, probably because she doesn't take it too seriously either.
Production company: Fidelite Film
International sales: Elle Driver, www.elledriver.eu
Producers: Olivier Delbosc, Marc Meissonier
Screenplay: Emmanuelle Bercot, Jerome Tonnerre
Cinematography; Guillaume Schiffman
Editor: Julien Leloup
Production designer: Eric Barboza
Main cast: Catherine Deneuve, Nemo Schiffman, Gerard Garouste, Camille, Claude Gensac, Paul Hamy