Dir/scr: Andrew Okpeaha MacLean. US. 2011. 96mins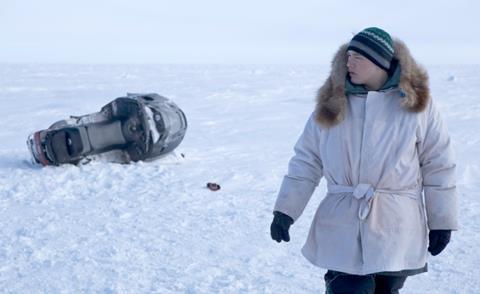 There's more than folklore and ethnography at work in Andrew Okpeaha MacLean's drama On The Ice about young locals who dress like rappers and race around on snowmobiles in a tiny windswept community.
On The Ice is striking in its portrait of youth in the world's northernmost city.
On The Ice has taut suspense and a stark visual beauty, but it is likely to be viewed as a well-made novelty with a non-professional cast that won't get exposure beyond festivals and art houses. That said, it is also an eloquent calling card for a gifted young director and cinematographer.
In On The Ice, a teenager in an arctic native community is killed and his body is submerged below the ice. When the corpse returns to the surface, so does the secret of his death.
In Barrow, 515 km north of the Arctic Circle, swaggering Aivaaq (Frank Qutuq Irelan) has dreams of being cool and important. But his girlfriend is pregnant and he has no livelihood, and he fights with rival James (John Miller) when his peers mock him.
Heading out on a seal hunt on the ice beyond their town with Qalli (Josiah Patkotak), another friend, Aivaaq fights again, and James is killed. It is an accident, but the young men hide his body beneath the ice and return to town. Eventually the corpse reappears and the truth is reconstructed.
On The Ice is striking in its portrait of youth in the world's northernmost city, who share much with kids their age anywhere – vulnerability, vanity, and aimlessness, as drugs find their way to the remote North.
Yet the specific location of On The Ice in a vast place without vegetation means that secrets don't stay hidden for long in a community of a few thousand that dispenses justice in its own way.
The director, who founded a theater group in remote Barrow, gets solid performances out of his mostly non-professional cast. Frank Qutuq Irelan is cocky as Aivaaq, the scrappy would-be thug who fights to protect his "street" reputation in a town without a paved road. Josiah Patkotak plays the shy Qalli, who's haunted by his role in the death on the ice. The suspense builds deftly as a growing number of the townspeople sense that haunting.
The drama is framed by the remarkable work of cinematographer Lol Cawley (Ballast, Better Things), who shifts between the shadowy claustrophobic town and the vast radiance of the landscape beyond it. Meeting the logistical challenge of shooting in Barrow is an achievement in itself. Cawley has made this low-budget film look as grand as its surroundings.
Production companies: Silverwood Films, Whitewater Films, Goldcrest Films, Treehead Films
International Sales: William Morris Endeavor 1 310 46 3166
Producers: Cara Marcous, Lynette Howell, Marco Londoner, Zhana Londoner
Cinematography: Lol Crawley
Editor: Nat Sanders
Production designer: Chad Keith
Music: iZler
Main cast: Josiah Patkotak, Frank Qutuq Irelan, Teddy Kyle Smith, Adamina Kerr, Sierra Jade Sampson, John Miller, Rosabelle Kunnanna Rexford