The British artist tells Sarah Cooper about casting her first feature, Self Made, from a newspaper advert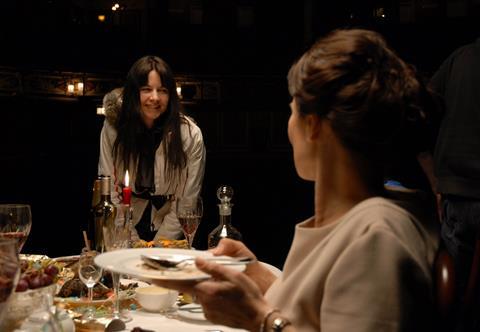 Turner Prize-winning British artist Gillian Wearing has just finished shooting her debut feature Self Made, a blend of documentary and fiction involving seven "non actors", which came about as a result of a UK Film Council / Arts Council initiative to encourage artists to make the switch into feature film making.
Currently in post, Self Made will screen at the Abandon Normal Devices festival in Manchester in October, before receiving a limited theatrical release in the UK.
Where did the idea come from?
The UK Film Council (UKFC) were looking for artists to come up with ideas for a feature in 2006. I'm fascinated by ideas of identity and fiction and reality, so I came up with the idea of putting an advert in the paper asking people, "if you were to play a part in a film, would you be yourself or a fictional character?
I did three auditions and chose seven people to take part in the film. My idea got whittled down and eventually I got the UKFC funding [$386,000]. The film is made up of workshops with the participants and then end scenes which are scripted, in which the participants take on their characters. [Wearing co-wrote the script with playwright Leo Butler].
How does the film world differ from the art world in terms of putting a project together?
The art funding process is very different. You either get the funding or you don't get it, and that's it. Whereas in films it feels like anything can be pulled at any time and it is quite hard to get your head around that. Directors have to work on projects for a very long time, not knowing if they will even get anywhere. I imagine it can be quite soul destroying at times.
In the case of this film, it was a very back-to-front way of doing it, because when I put the advert out, I didn't know whether I was going to get the funding. I ended up using three of the people in the film that I auditioned right back in January 2007, so they had been on the project waiting for all that time.
Was it a steep learning curve, going from making short films to making a feature length film?
In terms of the terminology, while yes it is feature length, it is also just an extension of my previous work, a kind of hybrid between documentary and reality and fiction.
But obviously the set up of making a feature length film was different and it was pretty daunting. There are lots of components involved. There were a lot of things that I didn't know that I had to learn on set. I have never done blocking before, and had never worked with actors and text.
Steve McQueen and Sam Taylor Wood have also made the transition from being artists to film-makers. Do you think it is a natural progression?
Steve's work is probably closer to mine. I wouldn't make a narrative feature unless the material was really close to my heart and it made sense in relation to my previous work. Television and film has been sniffing around artists for a very long time, but it takes a while for that relationship to turn into anything. It has almost happened for me a few times, I was going to do a film with the BBC a couple of times, but this time it has come to fruition. I think anyone who does video, whether you are a documentary film maker or an artist, will eventually think about turning it into long form.
Have you been inspired by any film-makers?
I am not very good at doing something that someone has done before, it has to be new territory for me. At one point I was going to build a set with rooms in the studio. But my producer Lisa Marie Russo had just seen Charlie Kaufman's Synecdoche New York, which is a similar idea, so I decided not to do that.
Because this is a documentary, I can't say that there is one director who inspired it, but I love Fassbinder. I love the idea that he has a troupe, people that he worked with over and over again. That is the difficult thing when you go into a new situation like a feature film, the only people I had worked with before were [producer] Samm Hailey, the method coach and the sound recordist. Everyone else was all new.
Who do you see as the audience for this film?
When I go to the cinema, I'm always surprised to see who goes to what films. There are people that want escapism, or people that want movies that might make them think.
This film is going to be shown in art-house cinemas. I suppose you will get people who are interested in art, and maybe people who are interested in performance and acting. I think if people are interested in the subject they will come from whatever background.