The British director talks to Sarah Cooper about the challenges he faced making his Cannes Competition entry Another Year, and why he loves the festival.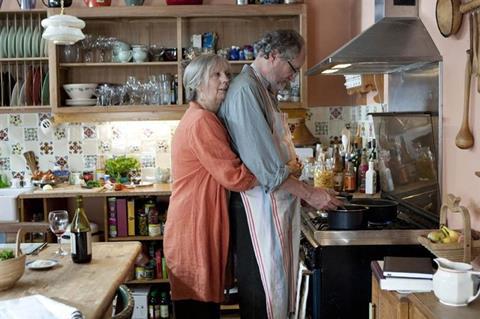 Cannes 2010 sees the return of Mike Leigh to Competition with Another Year. His fourth time in Competition, Leigh won the Palme d'Or in 1996 for Secrets & Lies. Starring Jim Broadbent, Lesley Manville, Ruth Sheen, Imelda Staunton and David Bradley, the film tells the story of a happily married couple and their friends over the space of a year. At Cannes Sony Pictures Classics picked up North American rights from Focus Features International.
This is your fourth time in Competition at Cannes. Are you a fan of the festival?
We're in showbiz and it's all about getting people to see your film. I usually wear a light flannel suit with a funny comic reddish bowtie, but if you don't have a black tux and black shoes, they won't let you in at Cannes. People make a fuss about it, but I don't care. It's all part of the whole thing and it's a bit of a gas. For me, it is human activity and it's a feast of human foible and glory and nonsense and I love it for all that.
Another Year is about an ordinary couple dealing with the everyday problems of their friends. How did you go about making the film?
I really made it like my previous film, Happy Go Lucky, just with a sort of feeling for what it's going to be, rather than a scheme. It evolved. I then rehearsed for months with the actors and created the world of the characters and then we built it while we shot it, into November. It's a very personal, emotional kind of film for me.
Your longtime producer Simon Channing Williams died three days before rehearsals began. What kind of impact did that have?
Simon had already put in place Georgina Lowe, She is an amazingly good producer and she's worked with us on everything sinceNaked in 1992. People have said it must have been terrible without him. We missed him, that great heaving, smiling man, but the truth is, it's gone very well. Apart from anything, the film is a tribute to him.
You like working with the same actors.
One of the myths is that I always work with the same people. If you think about that, it is statistical nonsense, because there always has to be a first time for everybody. In fact, in the case of this particular film there are more actors who I have worked before than in any other film I've made. There are only a couple of new people, in particular David Bradley who is a brilliant contributor to this film and a wonderful actor.
How easy do you find it to get funding?
I make these films, where there isn't a script, we can't tell you what it's about, and I say "don't talk to us about Hollywood star casting". Anytime people say we'll give you the money but you have to have a name, I walk away. Because as far as I'm concerned the stars are the good British actors who are around. It would be a mess if we got people there for the wrong reasons. It is tough. The budget for this film, £4.8m, was less than the £6.3m for Happy Go Lucky and Vera Drake But that is part of the battle of making serious independent films.
What were the biggest challenges you faced on this project?
Shooting four seasons over 10 weeks when it pissed it down for the whole of last summer. Although the weather forecast would say it was going to rain, we'd get there and the sun would come out. We had a theory that Simon Channing Williams had gone up to heaven and thought, I've let them down, what can I do to help. So in this unique way he made a deal with the man upstairs. He would have adored that joke.