Cross-platform producer Nuno Bernardo talks to Screen about the opportunites afforded by transmedia and his work on Noel Clarke comedy The Knot.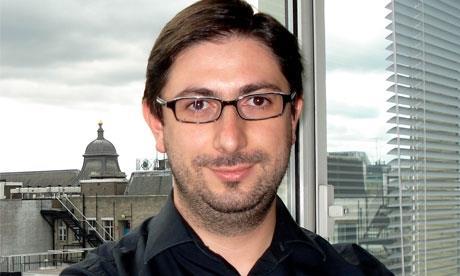 Producer Nuno Bernardo transmedia drama Sofia's Diary was one of the first internet-based series to transition to UK TV following its acquisition by Channel Five (from Sony Pictures Television International) in 2008.
The concept for the web and mobile based interactive series aimed at the teenage market spawned TV adaptations in US, China, Japan, Brazil, Germany and Turkey among others and reached a peak online following of more than 200,000 visitors per month. The rights to the popular series are now owned by Sony, but Bernardo is still onboard as a producer.
Bernardo's recent work as producer and creator of the series Aisling's Diary for Irish broadcaster RTE earned him a Kidscreen Award for Best One-Off Teen Drama and Brazilian interactive series Final Punishment saw him nominated for an Emmy and a TelaViva Best interactive Show Award. He most recently produced comedy Living in Your Car, which premiered on HBO Canada.
Bernardo's 22-man strong production company beActive is now transferring its knowledge of multi-platform interactivity to feature films with work on Noel Clarke's upcoming comedy The Knot.
How did you start working with transmedia storytelling?
When we started Sofia's Diary in 2003 I don't think the word was invented. But we wanted to create shows that could use the new media of the time: SMS, blogs and other forms that allowed you to have a close relationship with an audience or with a community.
For me, storytelling is about trying to make a personal impact. With social media and mobile phones we can stream or push content to an audience and have that level of engagement and that level of connection between characters and audiences.
We knew at the time that there were so many teenage girls' diary shows out there, that we needed to make something different and we wanted for the first time a story not to be told as one-way communication or presentation of the story, but a story that could evolve and the audience could have a voice on that story.
The story was shaped with interaction from the audience; the characters were emailing, texting the audience and the audience was replying back and feeding the story. These characters became not just characters you watch once a week or once every two years when you go and see a movie at the theatre, but they became your friends because every single day, you have new stories, new events that happen in these characters' lives.
What sort of opportunity does transmedia content offer producers?
Transmedia allows independent producers to empower themselves. By creating a book, a website, a web series, a comic book, an app or whatever your vision for the project, this allows you to establish ownership of your film through an in-built audience. Later on when you go to talk to funders, you can say "hold on, I already have a following for my project, an x amount of people in my community, my book sold x amount of copies or my game has already sold 1m copies". That gives you leverage when you try to finance and makes your independent film more interesting to a distributor or sales agent because you already have a following. Everybody is looking for a project that already has an audience, a platform.
What is beActive's role on The Knot, your first feature?
With Sofia's Diary, I think we used every single format from radio, television, books, printed magazines, events… Everything except feature films. In 2009 in Brazil we produced a transmedia series called Final Punishment. The first screening of this transmedia show was a live screening at the Rio De Janiero Film Festival in front of 300 people. Since then we've wanted to embrace the medium.
We worked with one of The Knot producers - Enrico Tessarin - on Sofia's Diary in the UK so had that relationship in place. And we've been following Noel Clarke since Kidulthood. The Knot is a nice script, perfect cast and a relatively small budget, so we wanted to be part of it. We co-produced and co-financed it and are now working with Noel and the creative team to develop a transmedia element.
Noel has a big following and he knows how to use social media. We're looking at how to make this project more social media-oriented, especially through Facebook, which we'll use as a platform to tell stories related to the movie. We also want to use apps both on Facebook, the iPhone and iPad.
We have an office in Brazil that has specialised for six-seven years in producing mobile content and mobile games so much of this can be done in-house. Our main focus will be on creating these elements as important to the story, not merely as marketing gimmicks.
Are you working on other features?
We are in negotiations with two projects, both UK-originated. We're closing co-producer deals on those and want to do all the transmedia elements around the films, too.
What is your next TV project?
We have two series. One is shooting in September called Beat Girl. It'll be 30 webisodes, an iPhone app and a six-part TV show for release early next year and we are aslo developing a more complex sci-fi world called Collider that we are producing some comic book. That will lead to a web series and then a TV series later next year.