In just two years, Patrice Theroux has built E1 into a successful independent multi-territory distribution network thanks to choice acquisitions of both companies and films.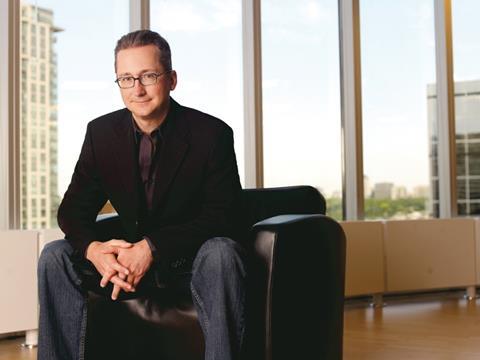 When we launched two years ago, the business press wondered if there was room for another distributor in Canada," says Patrice Theroux, president of filmed entertainment for E1 Entertainment which launched as Entertainment One in 2007.
"We take input from all our territories because they know their territories better than anyone"

Patrice Theroux, E1 Entertainment
But the doubters have been proved wrong. E1 Films Canada, he says, has gone from "basically zero" to a Canadian market share of nearly 4% and second place behind market leader Alliance Films among Canadian independents (see box, opposite).

Those who know the Canadian distribution world will appreciate the significance of this: Theroux spent most of his career at Alliance before ending his tenure on a sour note. But that is decidedly water under the bridge. "The numbers today show there was room in the marketplace," says Theroux.

E1 is entering its third Toronto International Film Festival with 18 titles including world premieres of Jean-Pierre Jeunet's Micmacs, Danis Tanovic's ­Ireland-Spain co-production Triage, ­starring Colin Farrell; and UK director Daniel Barber's urban western, Harry Brown, starring Michael Caine.

Among North American premieres are Alejandro Amenabar's Agora, Lars von Trier's Antichrist and Terry Gilliam's The Imaginarium Of Dr Parnassus.

And the company is not just growing in Canada. Driven by strong performances by Twilight (acquired through its multi-territory slate deal with Summit Entertainment), E1 has also made considerable progress in the UK. E1 Films UK (formerly Contender) holds a 2.1% local market share just behind Alliance's Momentum Pictures at 2.4%. Netherlands-based E1 Films Benelux (formerly RCV) is the Benelux market leader among independents with a 6.1% share.

Meanwhile E1's US-based straight-to-video and DVD distributor Koch Entertainment has also rebranded as E1 Entertainment US.

The E1 business model

In a conversation 18 months ago, Theroux described the E1 model: "Build the infrastructure for distributing content, then source the content." And he explained the concept behind acquiring a small distribution company like Contender: "You take a company that has a little bit of theatrical activity and you layer content over the top of it. The incremental costs of handling and diversifying into more theatrical distribution are not that great and so you can expand with lesser costs than a start-up."

Theroux and E1 founder and CEO Darren Throop have realised their ambition of a PolyGram Filmed Entertainment-style organisation, with semi-autonomous local managing directors calling the shots according to the territory as opposed to the one-film-fits-all studio approach.

Theroux describes what he calls the "ballet" of E1's product stream. Los Angeles-based senior vice-president of worldwide acquisition Lara Thompson co-ordinates through a team including the newly appointed Seijin Park, also in Los Angeles, Jo Sweby and Poonam Sahota in the UK and Charlotte Mickie in Toronto (Mickie joined E1 when the company acquired Maximum Films last year).

Meanwhile, the territories are watched over by Bryan Gliserman and David Reckziegel in Canada, Jan ­Kouwenhoven and Joke Wartenbergh in the Benelux, Richard Bridgewood and Alex Hamilton in the UK and Michael Rosenberg in the US.

"We take input from all our territories because they know their territories better than anyone," says Theroux. "Each feeds into the central intelligence system, the projects are reviewed and the information gets sent to the heads of the business units in each territory. It happens quickly, especially when the project is high ­profile."

A case in point is Jeunet's Micmacs, which was being presold at Cannes 2008 at script stage. "Everybody read it," recalls ­Theroux. The worldwide team discussed the cast — which includes Dany Boon and Dominique Pinon — and the track record of Jeunet, whose Amelie charmed the world. "The managers in Canada and the UK decided to go ahead and make an offer while Benelux chose not to at that point."

In contrast, when the Peter Weir project The Way Back was at script stage, only E1 UK signed on. This year at Cannes a promo reel was screened and Benelux decided to acquire it. "Now we have it for the two territories,"
says ­Theroux. "It's an organic, collaborative process."

Decentralised decision-making

Asked if this piecemeal approach does not affect the economies of scale one associates with mini-studios, Theroux replies: "It's a risk you take.

Sometimes a producer will need the financing and be more willing to compromise on the price upfront. Sometimes the producers don't need financing and so there's no price advantage even if you buy on a ­multi-territory basis. We do it as much as we can."

What E1 does not do, says Theroux, is "impair the territory's ability to do what is appropriate for its line-up just for the sake of acquiring multi-territories. Studios do that. They have a centralised approach. They acquire world rights and push them out through their territories."

Not that E1 is adverse to synergies. In July 2008, it acquired two television production companies, Toronto-based Barna-Alper and Los Angeles-based Blueprint Entertainment, as well as television sales agency Oasis International.

"We are seeing the vertical integration," says Theroux. "When we produce a TV show, like The Bridge, we keep worldwide DVD rights. While every deal is different, we always keep all rights for our own operating companies'
distribution." Broadcast rights will be sold by E1's international television group but DVD rights are handled by the E1 companies in their respective territories.

"That's the synergy we have derived from the business model. Everything we produce we reserve the right to exploit ourselves."

On the home front, E1 has made important inroads in Quebec, expanding its first-look deal with Montreal production and distribution executive Christian Larouche through the launch of a new subsidiary, Les Films Christal.

The new outfit — unrelated to Larouche's Christal Films Distribution, which declared bankruptcy last year — will acquire and distribute films internationally for distribution primarily in Quebec. The union has already paid dividends. The first film released under the Les Films Christal banner, A Vos Marques… Party! 2, earned $1.4m (c$1.5m) on its opening weekend.

Theroux says two or three Larouche titles will follow in the autumn.

Looking ahead, Theroux is anticipating stronger numbers thanks in no small part to the next instalment of the Twilight franchise, New Moon through E1 UK. This year E1 UK is releasing the Sam Mendes film Away We Go and acquired Sundance title I Love You Phillip Morris, with Jim Carrey and Ewan McGregor, as well as Mr Nice with Rhys Ifans.

"It's a mixture of arthouse movies and more commercial fare in the UK. Plus there's a strong straight-to-video feature slate and television product, which was the original business of Contender."

One way in which E1 will not follow the PolyGram model is in US theatrical distribution. "Theatrical is not in the plan," says Theroux. "It's a very big ­market, very expensive and very ­competitive."

On the other hand, given that many studios have closed their classics divisions, such as Warner Independent Pictures, or downsized their subsidiaries such as New Line Cinema under Time-Warner, perhaps now might be a good time to explore the terrain.

"But the capital required to do that I would rather see deployed in other ­territories. Or to bulk up in the territories we have," says Theroux. But he adds: "I would never say never."
TOP 10 FILM DISTRIBUTORS IN CANADA, AUGUST 2008-09
| | Distributor | No. of titles | Gross US$ (c$) | Market share |
| --- | --- | --- | --- | --- |
| 1 | Paramount | 48 | $138.8m (c$152m) | 16.40% |
| 2 | Warner Bros | 44 | $119.6m (c$131m) | 14.10% |
| 3 | Sony | 31 | $111m (c$121.6m) | 13.10% |
| 4 | 20th Fox | 60 | $108.5m (c$118.8m) | 12.80% |
| 5 | Alliance Films | 81 | $100.9m (c$110.5m) | 11.90% |
| 6 | Disney | 21 | $97.9m (c$107.1m) | 11.50% |
| 7 | Universal | 63 | $76.8m (c$84m) | 9% |
| 8 | E1 Films | 56 | $32.4m (c$35.5m) | 3.80% |
| 9 | Maple Pictures | 34 | $29.7m (c$32.5m) | 3.50% |
| 10 | MGM | 10 | $6.9m (c$7.6m) | 0.10% |
Patrice Theroux
After graduating from L'Université du Quebec, Theroux joined Videoglobe (which later became part of Entertainment One) in 1983.
In 1987, he joined Montreal distributor CIC with Andre Link, John Dunning and Christian Larouche.
A year later in 1988, he joined Alliance Vivafilm under Victor Loewy in Montreal.
Following the merger of Alliance and Atlantis in 1998, Theroux moved to Toronto as president of distribution under Loewy.
In July 2006, he left Alliance Atlantis Motion Picture Distribution. The terms of the out-of-court settlement are undisclosed.
He was appointed president, filmed entertainment, at Entertainment One in July 2007.
He is chairman of the Canadian Association of Film Distributors and Exporters.