Films from 81 countries have been subitted for this year's Best Foreign Language Film Oscar.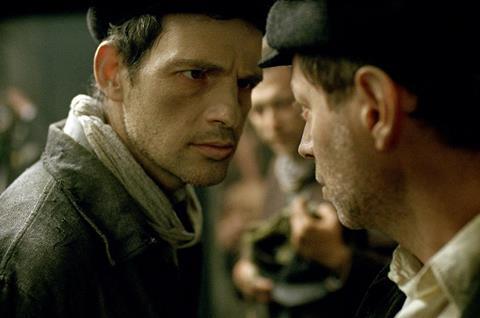 The US Academy of Motion Picture Arts and Sciences has confirmed that 81 countries have submitted films for consideration for this year's Academy Award for Best Foreign-Language Film.
Paraguay is the only first-time entrant.
The figure is down on last year, when a record 83 countries submitted features and the eventual winner was Polish feature Ida, directed by Pawel Pawlikowski.
Nine finalists will be shortlisted, which will be whittled down to five nominees that will be announced on Jan 14, 2016.
The 88th Academy Awards will take place at the Dolby Theatre in Hollywood on Feb 28, 2016, televised live in more than 225 countries and territories worldwide.
The 2015 submissions are:
Afghanistan Utopia, Hassan Nazer
Albania Bota, Iris Elezi, Thomas Logoreci
Algeria Twilight of Shadows, Mohamed Lakhdar Hamina
Argentina The Clan, Pablo Trapero
Australia Arrows of the Thunder, Dragon Greg Sneddon
Austria Goodnight Mommy, Veronika Franz, Severin Fiala
Bangladesh Jalal's Story, Abu Shahed Emon
Belgium The Brand New Testament, Jaco Van Dormael
Bosnia and Herzegovina Our Everyday Story, Ines Tanović
Brazil The Second Mother, Anna Muylaert

Bulgaria The Judgment, Stephan Komandarev
Cambodia The Last Reel, Sotho Kulikar
Canada Félix and Meira, Maxime Giroux
Chile The Club, Pablo Larraín
China Go Away Mr Tumor, Han Yan
Colombia Embrace of the Serpent, Ciro Guerra
Costa Rica Imprisoned, Esteban Ramírez
Croatia The High Sun, Dalibor Matanić
Czech Republic Home Care, Slavek Horak
Denmark A War, Tobias Lindholm

Dominican Republic Sand Dollars, Laura Amelia Guzmán, Israel Cárdenas
Estonia 1944, Elmo Nüganen
Ethiopia Lamb, Yared Zeleke
Finland The Fencer, Klaus Härö
France Mustang, Deniz Gamze Ergüven
Georgia Moira, Levan Tutberidze
Germany Labyrinth of Lies, Giulio Ricciarelli
Greece Xenia, Panos H Koutras
Guatemala Ixcanul, Jayro Bustamante
Hong Kong To the Fore, Dante Lam

Hungary Son of Saul, László Nemes
Iceland Rams, Grímur Hákonarson
India Court, Chaitanya Tamhane
Iran Muhammad: The Messenger of God, Majid Majidi
Iraq Memories on Stone, Shawkat Amin Korki
Ireland Viva, Paddy Breathnach
Israel Baba Joon, Yuval Delshad
Italy Don't Be Bad, Claudio Caligari
Ivory Coast Run, Philippe Lacôte
Japan 100 Yen Love, Masaharu Take

Jordan Theeb, Naji Abu Nowar
Kazakhstan Stranger, Yermek Tursunov
Kosovo Babai, Visar Morina
Kyrgyzstan Heavenly Nomadic, Mirlan Abdykalykov
Latvia Modris, Juris Kursietis
Lebanon Void - Naji Bechara, Jad Beyrouthy, Zeina Makki, Tarek Korkomaz, Christelle Ighniades, Maria Abdel Karim, Salim Haber
Lithuania The Summer of Sangaile, Alanté Kavaïté
Luxembourg Baby (A)lone, Donato Rotunno
Macedonia Honey Night, Ivo Trajkov
Malaysia Men Who Save the World, Liew Seng Tat

Mexico 600 Miles, Gabriel Ripstein
Montenegro You Carry Me, Ivona Juka
Morocco Aida, Driss Mrini
Nepal Talakjung vs Tulke, Basnet Nischal
Netherlands The Paradise Suite, Joost van Ginkel
Norway The Wave, Roar Uthaug
Pakistan Moor, Jami
Palestine The Wanted 18, Amer Shomali, Paul Cowan
Paraguay Cloudy Times, Arami Ullón
Peru NN, Héctor Gálvez

Philippines Heneral Luna, Jerrold Tarog
Poland 11 Minutes, Jerzy Skolimowski
Portugal Arabian Nights – Volume 2 The Desolate One, Miguel Gomes
Romania Aferim!, Radu Jude
Russia Sunstroke, Nikita Mikhalkov
Serbia Enclave, Goran Radovanović
Singapore 7 Letters - Royston Tan, Kelvin Tong, Eric Khoo, Jack Neo, Tan Pin Pin, Boo Junfeng, K Rajagopal
Slovakia Goat, Ivan Ostrochovský
Slovenia The Tree, Sonja Prosenc
South Africa The Two of Us, Ernest Nkosi

South Korea The Throne, Lee Joon-ik
Spain Flowers, Jon Garaño, Jose Mari Goenaga
Sweden A Pigeon Sat on a Branch Reflecting on Existence, Roy Andersson
Switzerland Iraqi Odyssey, Samir
Taiwan The Assassin, Hou Hsiao-hsien
Thailand How to Win at Checkers (Every Time), Josh Kim
Turkey Sivas, Kaan Müjdeci
United Kingdom Under Milk Wood, Kevin Allen
Uruguay A Moonless Night, Germán Tejeira
Venezuela Gone with the River, Mario Crespo

Vietnam Jackpot, Dustin Nguyen