Dir: Romain Gavras. France. 2009. 88mins.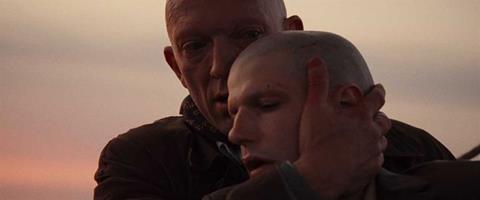 The spirit of Matthieu Kassovitz's La Haine is hovering all over the debut feature of Romain Gavras, son of the celebrated filmmaker Costa Gavras. The association begs to be made not only because Vincent Cassel stars in both of films, but also since Kassovitz, Cassel and Gavras are the founders of an artists' collective called Kourtrajme, sharing ideas and working together now for several years.
Gavras is obviously trying to point out that everyone has a potential axe to grind, whether black, Jewish, Muslim, Asian, gay or redhead.
Those who found La Haine to be significant and symptomatic, will be no less enthusiastic this time, but the rest may very well be put off by the dreary spectacle of the France's northern industrial coast and the arbitrary explosions of anti-social spite, as symbolic as they may pretend to be. Lacking the novelty of Kassovitz's opus when it first came out, Gavras's prospects look less promising, though he is most likely to strike a chord with restless teenagers and squeeze itself into quite a few festivals.
Built as a sort of urban nightmare, it features an ultimately nerdy adolescent, Remy (Barthelemy) and an embittered guidance counselor, Patrick (Cassel), who embark together on a spree that starts with rebellious anarchic acts against anything they happen to dislike… the reason being that, as victims of discrimination, they are assuming their rights.
Inevitably, all this works its way to a climactic series of vicious killings perpetrated for no purpose whatsoever. In the course of this journey the nerd becomes despondently violent while his older tutor turns from counselor to "agent provocateur", aggressively inciting furious confrontations, which sooner or later cannot help but erupt into mayhem.
If La Haine was strictly related, at the time, to racial confrontations in the French slums, Gavras takes the theme one step further, into an almost abstract realm. Remy feels he is bullied, hated, despised and manhandled because he is a redhead, though the color of his hair does not really support this contention. And because he feels he belongs to a minority of redheads, "without a country, without a language, without and army" he dreams of going to Ireland, the land where everyone is a redhead. And until he gets there, under the close, diabolical supervision of Patrick, who is also a hardly a redhead, he vents his frustrations while struggling to figure out his sexuality, his identity and his relationship with his partner.
Gavras is obviously trying to point out that everyone has a potential axe to grind, whether black, Jewish, Muslim, Asian, gay or redhead. And when unhappy with their existence, they will pick up that axe and raise it indiscriminately against everyone. The drab world surrounding his characters, the adolescent frustration on the one hand and the adult oppressive boredom, on the other hand, are the trigger behind it all. Andre Chemetoff's spectacularly effective camera, paints a depressively picturesque backdrop, all of it shot in the Dunkirk area while the soundtrack, all weaved around the Rachmaninoff piano preludes, makes particular use the ominous opening chords of The Bells. No need to look for the script to make narrative sense, it doesn't, but Gavras relies on Cassel's contagious anarchic energy to which Barthelemy responds in style, to drive his tale to an inconclusive but highly symbolical ending.
Production companies: 120 Films, Les Chauves-Souris, TF1, Droits Audiovisuels
Executive Producers: Vincent Cassel, Eric Neve
Producers: Vincent Cassel, Eric Neve
International sales: TF1 International, www.tf1.fr
Screenplay: Romain Gavras, Karim Boukercha
Cinematography: Andre Chemetoff
Production designer: Christian Vallat
Editor: Benjamin Weill
Music: SebastiAn
Main cast: Vincenet Cassel, Olivier Barthelemy, Justine Lerooy, Vanessa Dacat, Boris Gamthety, Rodolphe Blanchet