US movie palaces of yesteryear are brought to life in a beautiful photo collection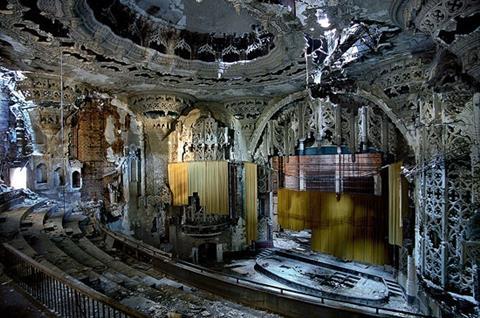 For those of you who are as taken with old-school cinemas as I am, here is a great slideshow of some once-proud US movie-theatres no longer in commission.
We've got plenty of our own, of course; The Phoenix, The Ritzy, The Electric, The Notting Hill Coronet (most of which have been thankfully revamped), to name a few in London, and plenty more around the UK - Brighton, Birmingham, Sheffield, Bradford, Leeds and York each have distinctive cinemas from the early-mid 20th century - but there's something especially atmospheric about the US theatres of yore, reminiscent as they are of the 'Golden Age of Hollywood' and 'New Hollywood'.
While the trappings of an IMAX are obviously great fun and the Everyman cinemas can't be beaten for comfort, watching The Philadelphia Story or The Big Sleep, Bonnie and Clyde or Taxi Driver in one of these must have have been a real treat.
The images come courtesy of French photographers Yves Marchand and Romain Meffre. If you want to see more of their work they have a great-looking exhibition on in Paris and there's a book out, too.