Dirs/scr: Joanna Kos-Krauze, Krzysztof Krauze. Poland. 2013. 131mins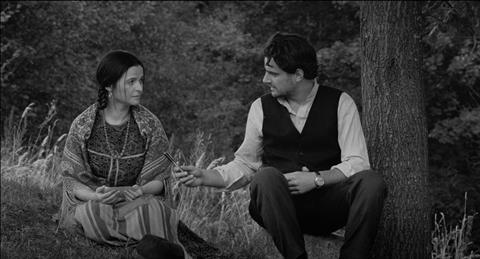 A companion piece to the Krauzes' earlier, award-winning My Nikifor, their new film, Papusza, deals once again with naïve art, this time poetry instead of painting. Papusza is striking because of it glorious black and white cinematography, which holds together a rather disjointed tale dedicated to the first Gypsy poet to be published in Poland.
The two much awarded cinematographers, Krzysztof Ptak and Wojciech Staron, provide some of the most spectacular black and white camera work in recent years.
Covering a period of some 30 years, the film is mainly a study of the Polish Roma customs and their way of life, rather than a full-blown biographic portrait of the main character. It devotes much of its time to ethnographic observations and leaves the story of Bronislawa Wajs (1908-1987), better known as Papusza, pretty much in the background for the first part of the film.
The film moves back and forth from the natural birth of Papusza (Jowita Budnik) in an open field, to a much later period in her life after she had become famous, then back again to 1949, when a young Polish poet, Jerzy Ficowski (Antoni Pawlicki) seeks refuge from the law among the wandering gypsies and obtains it with the unenthusiastic approval of Wajs (Zbigniew Walerys), who turns out to be Papusza's husband (the nature of their relationship is revealed much later in the film).
The complex plot continues to jump from one point in time to another, to show gypsy life on the road; their inbred fatalism; their mistrust of strangers; their fierce independence and their determination to keep their secrets to themselves and never divulge them to any gadjo ( a name which covers for them all of the non-Roma human race).
They do not recognise such concepts as time (they have the same word for yesterday and tomorrow) or property, and the worst disaster inflicted on them is to be forced to abandon their horses and their wagons, to leave their never-ending roaming around the country and to settle down in the miserable slums allotted to them by the communist regime.
Ficowski, who was practically adopted the Gypsies and spoke their language, accidentally heard Papusza one night putting her son to sleep with simple, pure, poetical rimes that she improvised out of thin air. He started to note them down and once he went back to his former life, two years later, he asked her to go on and mail him every poem that would come into her head, which she did, though she never quite grasped the meaning of poetry or its relevance.
Publishing her poems and then writing a book in which he details everything he learned about the Roma while living with them, Ficowski brings Papusza's world down on her. Rejected by her own people for selling them out to the enemy, unable to integrate in an alien world who offers to accept her but she does not comprehend, she is left stranded, somewhere in the middle, her mind unhinged by what she takes to be her personal curse, being capable to read and write unlike the rest of the Roma, so much happier despite the sorrows and miseries of their lives.
To the film's credit - and adding to its authenticity - most of its dialogue is in Roma, with the abyss separating the Gypsies from the world surrounding them explored every step of the way, mostly from the Roma perspective, and the two much awarded cinematographers, Krzysztof Ptak (who worked with the Krauzes on My Nikifor) and Wojciech Staron, provide some of the most spectacular black and white camera work in recent years. On the other hand, the constant juggling with time zones will leave many viewers bemused, wondering what is happening when and why.
Production companies: Argomedia, Polish Television, Canal + Poland, Studio Filmowe KADR
International sales: New Europe Film Sales (jan@neweuropefilmsales.com)
Producer: Lambros Ziotas
Cinematography: Krzysztof Ptak, Wojcech Staron
Editor: Krzysztof Szpetmansky
Production designer: Anna Wunderlich
Music: Jan Kanty Pawluskiewicz
Main cast: Jowita Budnik, Zbigniew Walerys, Antoni Pawlicki